Integrating customer relationship management software (CRM) like Salesforce CRM and Zoho CRM can significantly improve your business's sales and marketing operations. Both platforms are customizable and excel at managing customer data, handling leads and running promotional campaigns. We'll compare their capabilities and pricing to help you find the right CRM software for your needs.
Salesforce vs. Zoho Comparison
Salesforce and Zoho have robust feature sets. Here's how their pricing and essential CRM features compare.
Sales and Marketing
Sales and marketing features are core elements of an excellent CRM platform.
Salesforce Sales and Marketing Features
Email marketing: We were impressed by Salesforce's comprehensive email marketing tools. Businesses can craft personalized email designs and send campaigns using predesigned templates. To drive leads, you can send up to 5,000 emails daily on every Salesforce tier.
Telephone marketing: Salesforce can help your team win customers over the phone. Once you've set up your voice-over-internet-protocol integration and Salesforce Campaign module, you can run outbound telemarketing campaigns and receive incoming calls. Salesforce will capture contact information for you.
Multichannel sales and marketing: We like that Salesforce supports broader marketing initiatives like text message campaigns, online ads and social media marketing.
Salesforce CRM makes it easy to build and design an email marketing campaign. Source: Salesforce
Zoho Sales and Marketing Features
Email marketing: We were impressed that Zoho CRM integrates with third-party email marketing platforms through the Zoho Mail Add-on to help you run effective campaigns. Additionally, the Zoho Campaigns app supports dynamic content (content that changes for each recipient or recipient group).
Telephone marketing: Run telemarketing campaigns with Zoho PhoneBridge and Zoho Campaigns. We like how easy it is to create scripts, assign tasks, feed new leads and add appointments.
Multichannel marketing: Zoho CRM's Marketing Automation add-on helps you connect with your audience and capture leads from texts, social media and chatbots. You can also manage Google Ads and other types of pay-per-click advertising.
Winner
Both platforms offer many features that support sales and marketing campaigns, primarily via add-ons. Salesforce comes out on top because of its broader range of add-ons and extra functionality.
Omnichannel Communications
Robust omnichannel communication abilities are crucial to customer communication. 
Salesforce Omnichannel Communications Features
Email client: Salesforce syncs seamlessly with Gmail and Outlook. You can track all contacts, including email, in customer history.
Phone apps: We liked Salesforce's click-to-dial function. You can also make and receive calls across devices, whether you're using a mobile app or web interface. More advanced options, including call transcription, are available.
Multichannel communications: A wealth of plug-ins facilitate two-way communication with customers via SMS, multimedia messaging service (MMS), social media, private messaging, WhatsApp and more, all of which can be stored in customer history.
Zoho Omnichannel Communications Features
Two-way and group email: We were impressed by Zoho CRM's direct integration with Gmail and Outlook. You can save time by scheduling emails and storing email templates on the system.
Make and receive calls: You can make and receive calls on any device via Zoho PhoneBridge. Zoho logs your calls and notes. A transcription option is a handy tool for managers seeking ways to improve rep performance.
Multichannel connections: You can configure Zoho to communicate with clients via WhatsApp, Facebook Messenger, SMS and more. Easy-to-install chatbots can help with lead capture.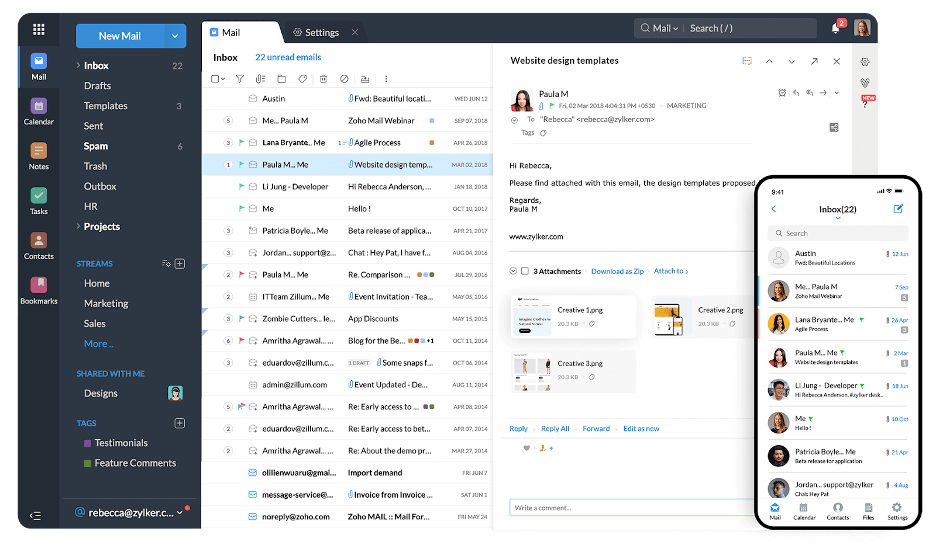 Users can access work emails via Zoho CRM through the platform, via a web browser and by email. Source: Zoho
Winner
Salesforce offers more options and granular control for companies that want to reach clients via multiple channels. However, Zoho is not far behind and offers enough for most SMBs in this area.
Reporting and Analytics
Reporting and analytics tools help you make better decisions. 
Salesforce Reporting and Analytics
Custom reports and dashboards: We were impressed by Salesforce's dashboard customization and report options, which let you view metrics like sales trends or customer satisfaction. You can customize prebuilt templates and share reports with colleagues in comma-separated values (CSV), Excel or PDF formats.
Data quality tools: We liked Salesforce's data quality tools. The Duplicate Management function identifies and merges identical records. The Data Integration tool appends and corrects your data using information from third-party sources. More advanced apps like Data.com Clean can further enrich and verify your records.
Forecasting tools: Create forecasts based on historical and current data. The Collaborative Forecasting feature is great for setting sales objectives for team pipelines. Reports for analyzing forecast accuracy and trends are also available.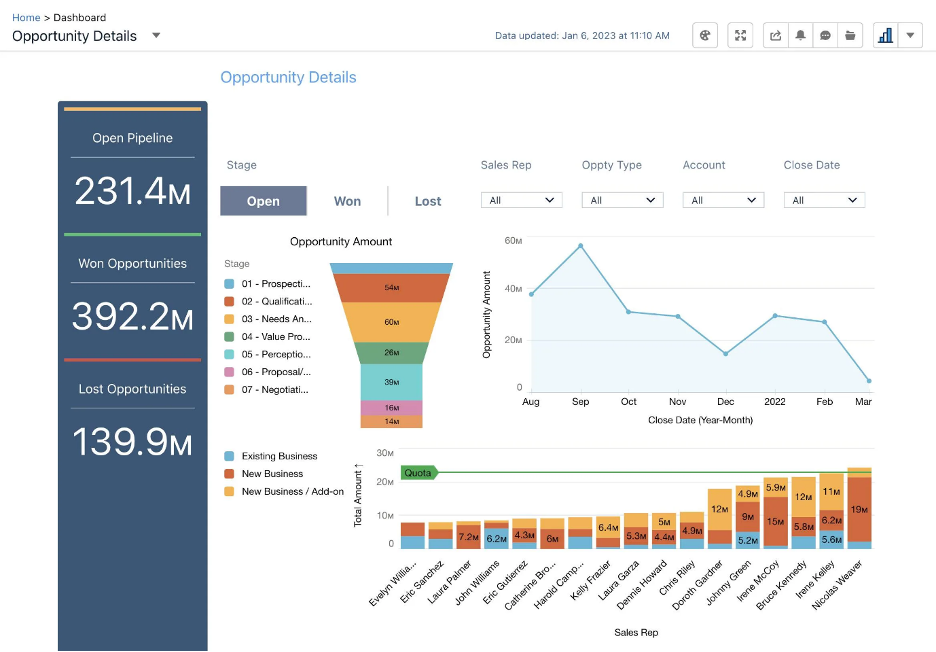 Salesforce makes customizing dashboards easy, allowing managers to view the crucial information they need. Source: Salesforce
Zoho Reporting and Analytics 
Custom reports: Zoho lets you dive into key metrics like sales performance and customer satisfaction. We like its prebuilt industry-specific report templates. You can share reports in CSV, Excel and PDF formats.
Data quality tools: We like that Zoho helps businesses maintain data integrity through simple features like Duplicate Management and more complex tools like Anomaly Detector, which spots unexpected data patterns and Quadrant Analysis, which provides data visualizations. 
Forecasting tools: You can forecast various outcomes on Zoho, including revenue projections for products, regions and teams. You can also analyze which deals are more likely to close. Consider adding Zoho Analytics for deeper data insights. 
Winner
Salesforce and Zoho CRM perform well in custom reporting, data management and sales forecasting. Zoho's Anomaly Detector and Quadrant Analysis are excellent. However, Salesforce's extensive app and plug-in ecosystem can provide any functionality you could need. 
Customization and Workflows
Teams often waste time on repetitive tasks that don't add value. Zoho and Salesforce offer customizations and workflows to overcome this challenge.
Salesforce Customization and Workflow Features
Screen customization: Salesforce's dashboard and menu systems are user-friendly. However, you can further customize your screens with the precise information and look you want. Managers can control their teams' screens, including the information they see. 
Object control: CRMs rely on objects ― database fields like names and addresses. Salesforce lets you control objects at a granular level, including setting permissions on who can view and edit objects.
Action-contingent steps: You can assign different stages to the sales pipeline in Salesforce and require team members to gather specific information before moving a lead to the next step.
Zoho Customization and Workflow Features 
Maximize productive time: We were impressed at how easily Zoho lets you set automations for email notifications and record updates. Zoho Flow lets you design custom workflows that integrate with other apps like Google Drive, Slack and Mailchimp.
Automated lead collection: You can set Zoho to capture customer prospect details from different channels like chatbots or social media and add them to your databases. You can also program follow-up actions. 
Lead scoring: We like that you can set lead scoring criteria and have Zoho segment leads based on these metrics. Lead scoring can help your sales teams focus their efforts more effectively.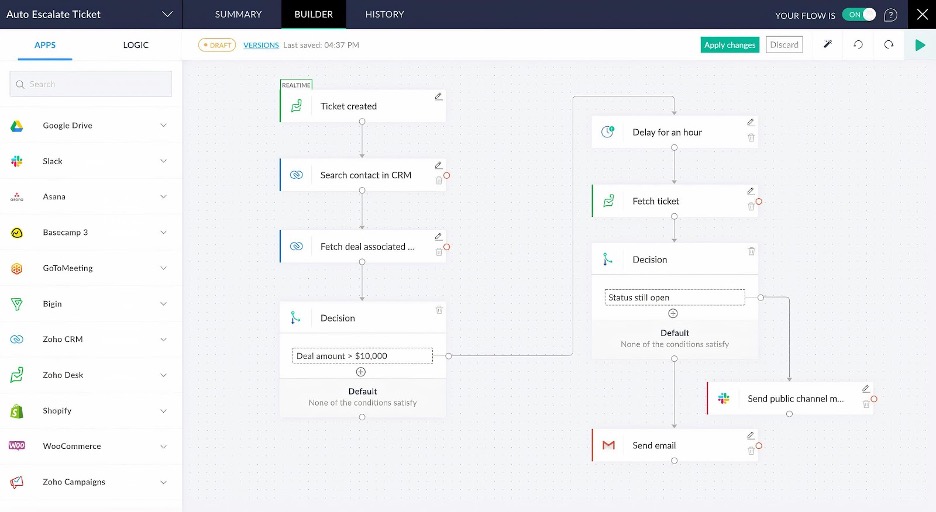 Building automated workflows in Zoho is straightforward. Source: Zoho
Winner
When it comes to customizing and automating the platform, Zoho provides real competition to Salesforce. However, larger, more complex companies may prefer Salesforce because its wider range of apps and API options will help them tailor their CRM to fit their business needs.
Artificial Intelligence
Artificial intelligence adds automation and predictive capabilities to drive more value from your CRM.
Salesforce AI Tools
AI sales tools: We like Salesforce's Einstein AI. It handles web chats, gives reps call prompts, suggests products to boost upselling and cross-selling and more.
AI decision tools: Salesforce's Einstein Discovery and Next Best Action tools can help you gauge social media sentiment and help CEOs with decision-making. 
AI efficiency tools: The AI-integrated Salesforce Flow feature, which recommends more efficient workflows, impressed us. However, it's currently only available on the Enterprise plan and higher.
Zoho AI Tools
AI business insights: Zia is Zoho's digital assistant, which offers business insights into sales metrics and customer experience levels. Zia helps reps concentrate on the leads most likely to turn into sales and highlights upselling and cross-selling opportunities.
AI workflow designer: We've already covered how well you can automate and customize workflows in Zoho. Additionally, you can drag and drop AI modules to create custom functions like workflow alerts for customer delivery statuses. We were impressed by the workflow designer's intuitiveness.
Additional AI tools: Zoho's AI tools can help you manage personalized email campaigns and social media activities. It can also assist with ticket management based on historical demand data. 
Winner
We were impressed that both platforms embrace AI and apply it intelligently. At the moment, Salesforce wins this category. It's been in the AI space longer and its tools are more refined and functional.
Integrations
Robust integrations and API access help extend and customize CRM functionality.
Salesforce Integrations
AppExchange: Salesforce's AppExchange features thousands of apps that extend well beyond sales and marketing. We like that you can search by industry and use case, making finding the right add-on easier.
Developer tools: Salesforce has a well-developed API and vast experience working with third-party app providers. Its developer console allows code writing, testing and debugging.
Additional tools: The platform offers more than apps. You'll find Lightning Bolts (prebuilt templates), Flow Solutions (for drag-and-drop automation building), Lightning Data (customer tracking tools) and Components (reusable features to build your own apps).
Zoho Integrations
Large marketplace: Zoho's marketplace has more than 1,000 plug-ins ranging from video conferencing apps like GoToMeeting to e-commerce solutions like Shopify.
Industry-specific solutions: We like how Zoho groups apps into 12 distinct categories like accounting, legal and supply chain management, allowing businesses to identify the right apps quickly.
API access: Zoho has a well-executed API interface and comprehensive supporting documentation, helping users build custom integrations with other business software titles.
Winner
Salesforce's app selection is unmatched. However, both platforms offer excellent API interfaces, providing enhanced flexibility ― although you may need to hire a developer to take full advantage.
Pricing
Salesforce and Zoho have competitively priced entry-level subscription services. However, adding services creates a bigger price differential between the vendors. 
Salesforce Pricing
The costs listed here reflect annual billing. The Essentials plan is available on a month-to-month basis. All other plans require an annual contract. 
Plan

Price

Features

Essentials

$25 per user, per month (up to 10 users)

Account, contact, lead, task and opportunity management
Lead auto-assignment
Duplicate prevention 
Automatic lead data capture 
Mass emails
Marketing campaigns
Customizable reports and dashboards
Email integration with Gmail and Outlook 
Salesforce mobile app 

Professional

$75 per user, per month

Everything in Essentials, plus:

Pipeline management
Lead registration
Rules-based lead scoring
Collaborative forecasting
Forecasting mobile app
Quote and order management
Roles and permissions 
Developer sandbox

Enterprise

$150 per user, per month

Everything in Professional, plus:

Workflow and approval automation
Sales teams and territories
Opportunity scoring 
Advanced reporting

Unlimited

$300 per user, per month

Everything in Enterprise, plus:
Sales engagement hub
AI-powered sales insights with Einstein
Sales cadence 
24/7 support
Salesforce is one of the more expensive CRMs. While the Essentials plan costs $25 per user, per month, it only supports up to 10 users, so it's not a viable long-term option for most small businesses. Additionally, you may need to pay extra for add-ons. Take advantage of Salesforce's 14-day free trial to test the platform and ensure it's worth the investment for your business. 
Zoho Pricing
Prices reflect annual payments. You'll pay more for monthly billing.
Plan

Price

Features

Free 

Free (up to three users)

Basic contact and deal management
Email marketing
Standard reports 
One web form

Standard

$14 per user, per month

Everything in the Free plan, plus:

250 mass emails daily
Lead scoring
Sales forecasting
Multiple pipelines
Mass email
Social data enrichment
Automation workflows
Custom fields and reports
KPIs
1GB of free file storage

Professional

$23 per user, per month

Everything in Standard, plus:

500 mass emails daily
Custom links
Unlimited custom list views and custom reports
Workflow blueprints
Google Ads integration

Enterprise

$40 per user, per month

Everything in Professional, plus:

1,000 mass emails daily
Conversational AI (Zia)
AI-powered sales insights
Custom signals, modules and buttons
Page layouts
Multiuser portals
Advanced analytics
Data enrichment 

Ultimate

$52 per user, per month

Everything in Enterprise, plus:

2,000 mass emails daily
Enhanced storage and feature limits
Advanced customer support
Dedicated database clusters 
5GB of free file storage
You'll pay much less for Zoho's top tier than Salesforce's top or even middle tiers. However, as with Salesforce, your actual costs will vary if you must buy add-ons. The Standard, Professional and Enterprise tiers have a 15-day free trial; the Ultimate tier offers an extended 30-day trial.
Winner
Zoho wins this round with its lower pricing. The ability to pay monthly ― albeit at a higher price ― is helpful for many businesses. Salesforce's prices reflect its appeal to enterprise-level businesses with bigger budgets.
Salesforce vs. Zoho Summary
Salesforce won many of our head-to-head comparisons. However, choosing a CRM is more nuanced. Salesforce is packed with features and can be customized to work precisely as you want; however, many SMBs don't need this level of complexity and prefer an easier-to-use and affordable option like Zoho. 
Salesforce is best for larger companies that want to boost their sales and marketing results.
Salesforce is a superb CRM with all the features needed to improve your sales and marketing outcomes. It's great for multichannel marketing and communicating with customers one-on-one. It's excellent at tracking and interpreting data and its AI integrations will continue bolstering this functionality. Salesforce's AppExchange is vast; its app selection and comprehensive API interface will help you customize the platform to your precise needs. It's expensive. However, fully utilizing even a few features will make the investment worth it for your business. 
Zoho is best for SMBs.
Zoho can provide much of Salesforce's functionality. However, even with plug-ins, it can't match Salesforce's massive feature set. Still, Zoho's core functionality and available plug-in communications and analytics apps should be more than enough to help SMBs get better results from their sales and marketing teams. Zoho is excellent at email marketing and workflow automations. We like its industry-specific solutions and insightful custom reports. Price-wise, $52 per month, per user, for the Ultimate package is a great value.
FAQs
Zoho and Salesforce both excel at helping companies maximize their sales and marketing campaign ROI. Salesforce's AI integrations and large app store allow for greater customization options than Zoho. Salesforce is, therefore, more suited to larger businesses, while Zoho should suit many SMBs' needs.
Salesforce and Zoho are popular, highly functional CRMs designed to help companies generate more leads and sales. Salesforce is a more advanced system best suited to larger businesses that want the highest level of customization. Zoho is better for SMBs seeking a sophisticated solution without granular control over all CRM aspects.
For SMBs, Zoho is one of the best CRM options due to its affordable pricing, omnichannel communication capabilities and workflow automation features.
For SMBs, Zoho CRM may be better than Salesforce because of its budget-friendly pricing, workflow automation and customization capabilities and ability to handle and analyze large amounts of data.
https://www.business.com/articles/salesforce-vs-zoho/