Last updated:
INNOVV H5 Helmet Camera Review Summary
Review Summary
The INNOVV H5 Helmet Camera is a lightweight modular system with an embedded high- performance Sony 4K sensor, image stabilization and a host of user selectable imaging features to improve or enhance video recordings across its 4K, 2.7K, 1080 and 720P resolution settings range. Its 2400mAh battery provides up to five full hours of 4K recording time from one charge – an industry leading feature; and when travel hours extend, swap the battery module for the external module and use its 5V USB connection to supply power for as long as needed. An upgraded version of the external module also adds an external boom microphone for in or out of helmet recording. A new helmet mounting solution accommodates virtually any layout and the INNOVV H5 is equally adept when mounted to almost any other platform – large or small, powered or not using universal camera mounting pieces (some supplied in the kit). With automatic recording once powered, a single easily access control, vibratory tones and a dedicated INNOVV H5 Helmet Camera App (iOS and Android) the user is truly in the rider's seat. The H5 is available in three configurations and every component can also be purchased separately. The INNOVV H5 product is easy to install and use, versatile and, good insurance.
Build Materials & Quality
Pros
Modularity, light weight, portability and flexibility
Sony 4K sensor and built-in enhanced image stabilization (EIS) technology
4K, 2.7K, 1080p, 720p resolution mode settings
30 or 60fps settings available for 2.7K, 1080p and 720p modes
Multiple user selectable settings for video optimization and creativity
Quick-swap battery or external power or external power & mic modules
External helmet-mountable microphone provides outstanding audio
Standardized USB-C interface for fast charging, high data-rate connectivity
Large capacity (2400mAh) battery provides up to five hours of 4K recording
Supports up to 512GB (or higher) storage media
Vibratory tones facilitate mounted use
Dedicated INNOVV H5 App to leverage features and settings of the camera
Innovative helmet mounting system and universal mounting kit options
Mountable and usable on virtually any helmet or platform
All modules available separately for replacement or build-up
Any of the three H5 configuration are an excellent investment with a high return
Cons
Vibratory tones less effective at speed or with higher noise levels
EIS feature works but visual impact depends on resolution settings
No GPS feature (yet)
INNOVV H5 Helmet Camera Image Gallery
Introduction – The H5 Story…
Around May 2022 the INNOVV H5 Helmet Camera became (officially) available from the INNOVV website.  But of course, development started well before this date and I, like other wBW reviewers who pursue new things, got some early and continuing insight into the H5's evolution and most gratefully, provided with early components for pre-release assessment.
This section is a brief capture, with some timelines, of this reviewer's experience regarding the iterative design, development, test and production activities leading to the spring 2022 release of the new INNOVV H5 Helmet Camera system – lets get started.
With the INNOVV K5 Dual Channel Action Camera released in December 2020 and reviewed by wBW the same month, the INNOVV team let it be known that they were well along in evolving their next product – a high-resolution helmet camera with extended battery life…something of great interest to action camera users.
Although INNOVV considered using the new K5 DVR module as the basis for the helmet camera, this option was rejected in favour of a totally new design; one not based on either the K5 nor the original USB-powered INNOVV C5 Helmet Camera Kit.
As such, it would truly be a new product – leveraging some of the newer K5 technology while applying ten plus years of experience in designing and developing motorcycle-oriented camera systems.
An obvious objective was to be competitive – think GoPro here; and another to be unique, given that the INNOVV name is derived from innovate.
And this innovative and unique product would include high quality, 4K resolution, electronic image stabilization (EIS), recording time in excess of four hours, easy to mount, small footprint for placement versatility, low profile for streamlining, adjustability for optimal field of view orientation, (optional) external microphone, and be easy to use.
H5 Design Iteration
Some original (and shared) H5 design layouts from early 2021 did indeed identify use of the K5 Lens/DVR along with an outer external connectivity housing and appropriate harnesses, mounted with a new ratcheting pivot assembly; but this approach was dropped when the decision was made to go with the previously mentioned totally new (innovative) design.
This new approach identified the use of multiple functional modules to provide multi-use configurations with minimal complexity.  A small lightweight DVR with integrated 4K sensor (lens) module and one simple control would interface with either a (large) capacity battery module or a smaller external interface module with its 5V USB connection interface.
And the course of 18 months or so it all came together.  Many designs and 3D-printed housings were produced (some of which I got to see or feel); and while many were rejected, the pursuit continued.  And finally, a solution came about with the desired features, performance, module and mount shaping, sizing and modularity.
The power conundrum was addressed in parallel with the goal being to provide a small long-life battery that would support high-performance processing requirements over an extended period on one charge.  This was achieved in using a dual cell 2400mAh component providing up to five straight hours of 4K recording time.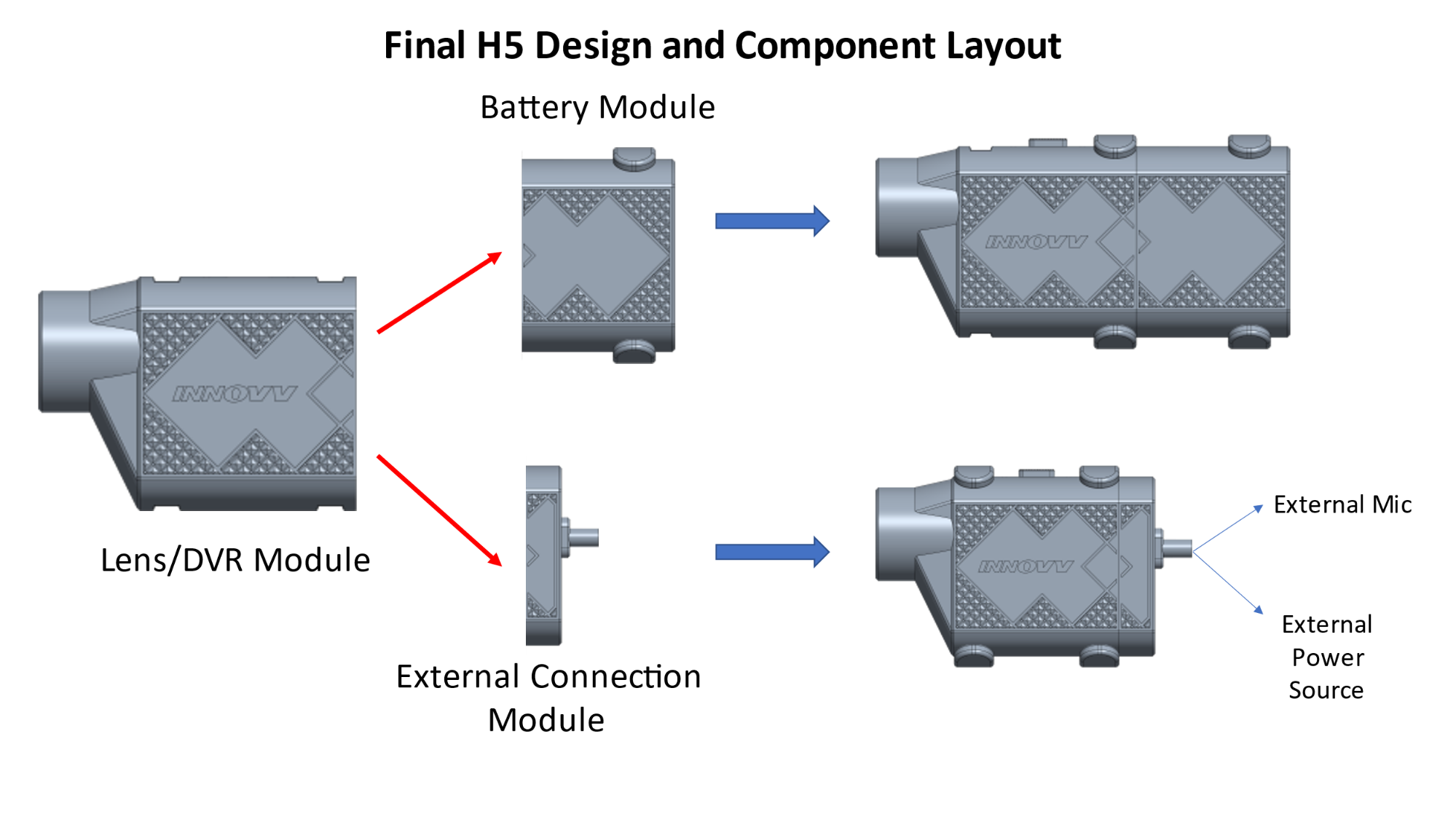 And with the self-contained long-life power requirement met a related requirement also got tackled – that being to provide external power source connectivity allowing continuous use of the camera without user intervention; a requirement met with the external interface module.
Another unique feature (at the time) was the use of the USB-C interface for connectors and ports providing a standardized solution – easy to use with its neutral orientation and support for larger charging currents and higher data rates, all significant system enhancements.
Between the design concepts and early diagrams/photos – some used in this review and ongoing email dialogue, the INNOVV team had my interest over the longer term along with that of other individuals active in testing and reviewing pre-release or released products.
Some Timelines Notes
During 2021 the INNOVV H5 team was working on designs along with component sourcing and testing – including multiple high-resolution sensor (lens) candidates and working on 3D printed renderings of the DVR, battery and external modules.
There were indeed some machinations over the best helmet mounting designs – from the more complex featuring built-in horizontal and vertical adjustability (as shown in the original design diagrams above) to more simplistic and effective (including cost) utilized by other point of view camera systems.
In the end a hybrid mount was decided upon for the initial H5 retail kit.  The mounting pieces would include widely available slide-in adhesive bases, slotted mounts (GoPro style) and arm or extender pieces with a unique H5 module cradle finishing off the mounting assembly; basic but quite functional for the lightweight H5 system.
During the latter part of 2021 and into early 2022, testing of the final components revealed heat and performance issues with the selected sensor component, necessitating the procurement and longer-term testing of multiple candidates as an ongoing activity by the team.
As 2021 ended, pre-release H5 kits were sent out for early user testing and feedback purposes.  At this point the H5 system was indeed fully functional as a 4K camera although neither the new lens nor the enhanced image stabilization feature (still being worked on) were included.  Development work on the iOS and Android interface app was also ongoing.
INNOVV uses a standardized INNOVV Camera App for their current models but decided to field a specific H5 Camera App for this unique new product; and a lot of interface and feature testing got done by the test group so that the H5 team could add, tweak and polish the H5 Camera App off.
January 2022 saw receipt of the original sensor pre-release H5 kit to this tester and reviewer with the DVR module and external power-only modules along with the mounting kit pieces described earlier.  With static testing and mounting of the system on two helmets done to help wile away the winter hours, observations were made and submitted to the H5 team.
Early spring of this year brought some timely emails, identifying that the new Sony 4K sensor had passed the extended testing and would be implemented before the production retail kits were released.  Additionally, design of the updated external module featuring both a power lead and external microphone lead had been finalized and early versions would be sent for evaluation.
June 2022 – the packaged retail H5 system, with new lens (and pending EIS augmentation) was received, along with some new mounting pieces to facilitate tubular fitment, just right for two-wheeler handlebar mounting.
July 2022 – the anticipated new external module with power and external audio leads was received – with the audio lead now sporting a 3.5mm inline connector.  Included in this package was another much-anticipated inclusion – the new INNOVV helmet mount solution with its slide-in locking mounting plate and base and a heavier duty cradle using a strong adjustable pivot.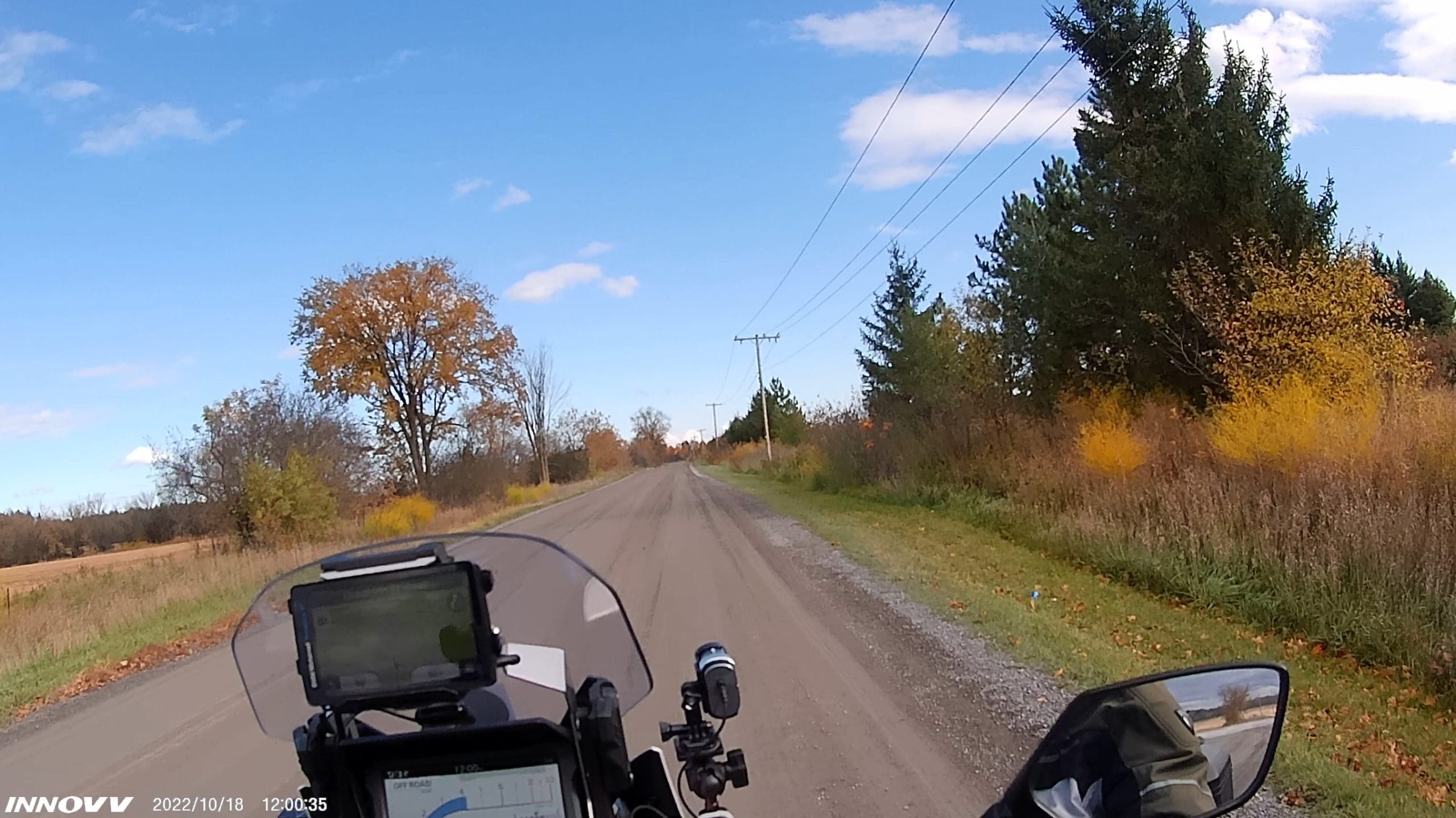 H5 Helmet Camera Overview
Layout & General Features
The INNOVV K5 Helmet Camera is a small light-weight portable modular-based 4K video system that can be used mounted or dismounted, helmet or platform mounted and self-powered or externally powered.  It is a very much a multi-function multi-platform system with many applications; but we'll stick with the motorcycle one for now.
Using a SONY 4K image sensor augmented with image stabilization and other image enhancing technology the INNOVV H5 Helmet Camera provides a 120-degree field of view, WiFi, a dedicated iOS or Android H5 Helmet Camera App and lots of user selectable features to enhance videos and photos.
Component modularity provides the means to quickly swap out the large capacity battery pack module for the small external USB power interface module or the equally small upgraded external module featuring both the USB power interface and an external boom microphone feature – the choice is yours.
The back of the Lens/DVR module is the interface, with a USB Type-C (USB-C) port and a micro-SD card slot for high-performance media up to 512GB (or larger).  The battery pack module features a USB-C plug for interconnectivity and a USB-C port for recharging while the external module has a USB-C plug for module interconnectivity and sturdy weatherproof external leads.
A large capacity 2400MAh battery pack module provides up to five hours (300m) of 4K recording time and is recharged via the USB-C port interface.  A full charge can take up to 2.5 hours (but its typically less).
The original external interface module has a long flex cord lead and USB-A connector for use with a 5V USB power source of some type allowing continuous use of the H5.  The newest version of this module now sports both the external power connection lead and an audio lead with 3.5mm inline connector and a very effective boom microphone.
Speaking of audio – the H5 DVR module has a pinhole microphone pickup on the bottom, good for recording ambient audio and some voice at lower speeds or in quieter cockpit environs, although the new external module with its supplied boom microphone is the far better solution whether its inside or outside the helmet.…
The only control is a single easy to find and easy to use button on top of the DVR module.  Two visually supportive LEDs are used – a Red LED positioned behind the button is used for power and function indications, while the Green LED up front indicates WiFi status.  Once turned on, recording starts automatically and almost instantly.
In knowing that the LEDs can be hard to see (sic) when the module is fitted to a helmet, INNOVV uses vibratory tones for power On or Off, camera use, low battery, and no media notifications.  These vibratory tones are readily felt/heard when stopped or at low speed but can be less effective at speed.
WiFi provides the other user interaction and monitoring means.  An onboard 2.4G local area network (device to device) feature and dedicated INNOVV H5 Camera App (iOS and Android) provide live view for field of view optimization, initial configuration, dynamic setting changes, ongoing monitoring, playback and or other file manipulation.
The H5 DVR utilizes a sealed lens, and everything is housed in rugged Engineering Plastics housings.  The self-powered configuration, with the DVR and Battery modules measure 11.0 x 3.2 x 5.5cm or 4.3 x 1.25 x 2.2in; the more svelte fit-in-palm DVR and External Module combination measures 83mm x 32mm x 55mm (3.3 x 1.25 x 2.2in)
Light of weight is the theme here – all good for mounting on a helmet.  The H5 DVR module weighs 62gr and the battery module is 74gr for a self-powered configuration weight of 136gr or 4.8oz.  The H5 DVR and external module with power and microphone harnesses comes in at 124gr or 4.37oz.  Comparatively, the GoPro Hero9 Black with battery is 150gr or 5.25oz.
The system is IP65 rated for prolonged protection regarding contact with and ingress of dust and directed water, e.g. – the wet stuff including snow (as me how I know…)
H5 Specifications
Original and Updated H5 Components
As shown in the screen snippet below from the H5 User Manual, the original retail box included the DVR/Lens module and swappable battery and USB connector modules along with the main cradle mount and a variety of universal slot-mount pieces.
Since then, a new external module with both USB and external microphone leads and connectors is now included in all but the base system kits, while the new heavier duty mounting plate and cradle component assembly is found in all the H5 retail kits.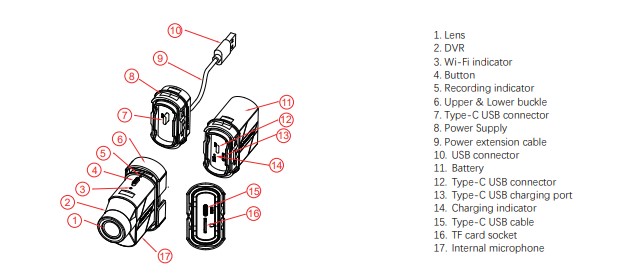 DVR Module – houses the Sony 4K image sensor and the DVR.  It has a media card (micro-SD) storage slot and USB-C port on the back interface.  Either the battery or external USB modules are pressure fitted into place to provide the dust and water sealing, with light flexible plastic upper and lower buckles snapped into place to absolutely secure the modules together.
Battery Module – this module houses the dual-cell 2500mAh battery with the front or interconnection face featuring a USB-C connector for the power output to the main module and a USB-C port for charging.
External Power Interface – this is the original small module that replaces the larger battery pack module providing the external USB power connectivity.  Swapping the battery module for this piece is simple – expand and pull off the upper and lower plastic buckles, separate the modules, then align and push the power interface into place and replace the buckles.
This original module has a single external lead exiting the back of the module via a sealed strain relief housing.  A USB-A connector sits on the other end of the lead.
Any compatible 5V power source can be used like a portable power pack, onboard outlets (NA or DIN style) with an adapter or a USB outlet be it original equipment or an accessory item; all can provide continuous power for the H5.
Even though the H5 does not consumer a lot of power, uses should utilize an ignition switched outlet if the source is from the motorcycle to prevent running the battery down inadvertently when the motorcycle is not running.
Upgraded External Power and Microphone Interface – even before the H5's formal release, provision for an externally connected microphone had been identified and an early version of the dual-lead module provided for assessment purposes.
In late spring, with our riding season well underway, INNOVV sent word that the new interface module was being readied for production and in early August, a package containing the new module, along with the new mounting kit and related pieces, was received.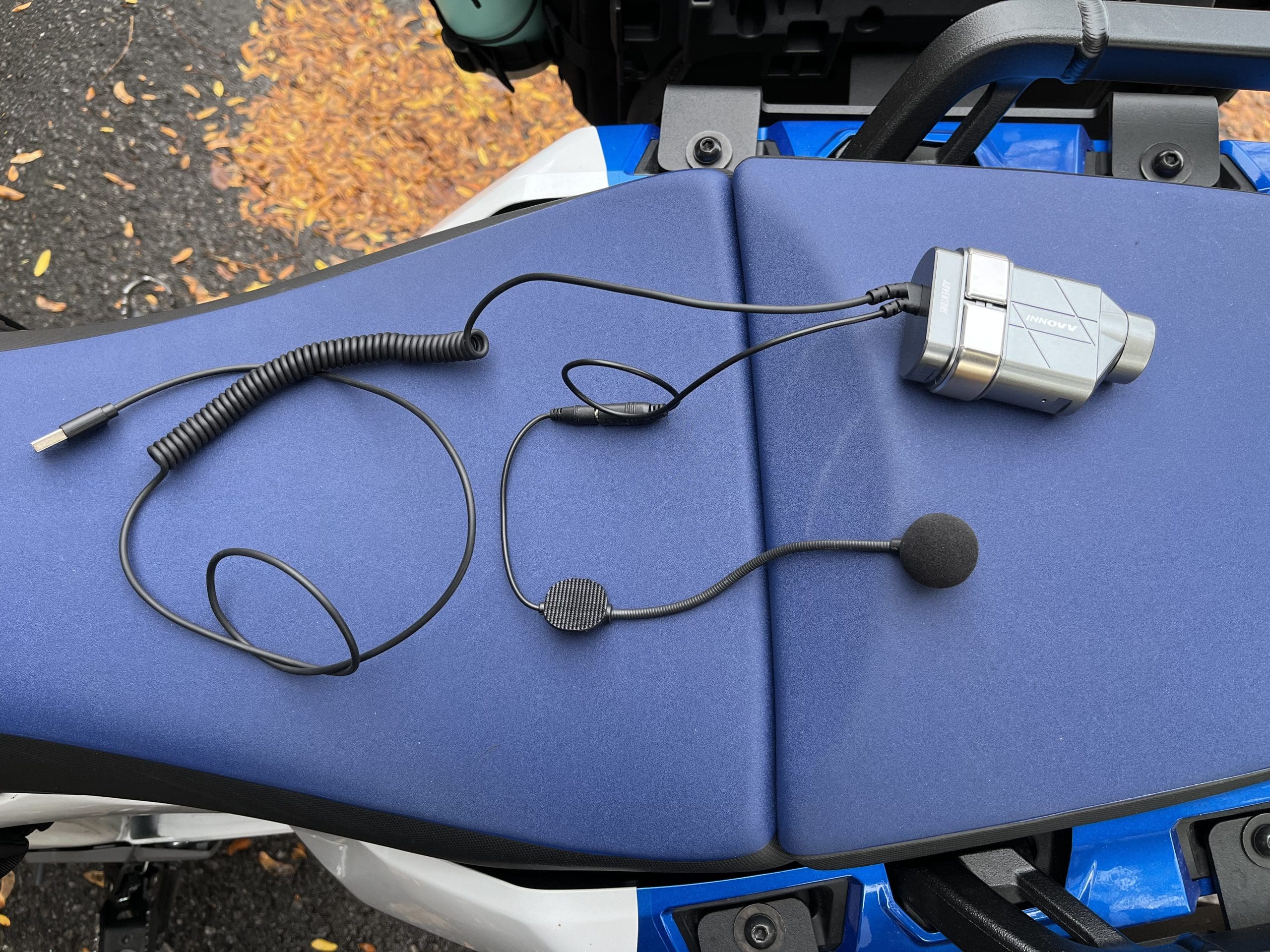 This updated module is included with the both the Power Supply & External Mic or External Mic system packages (298.00 and 273.00 USD respectively) or available as a separately purchased accessory (45.00 USD).  It has two reinforced cables using a common sealed angled strain relief housing on the back of this module.
The top cable is the long flex-cord lead terminating in a 5V USB-A connector while the new second lead is shorter with a 3.5mm M/F in-line connector (the early test piece did not have the connector…) and externally mountable boom microphone (mounting pieces included).
So, in addition to the continuous power supply capability the user now has a very sensitive (speech) well-filtered (noise) boom microphone.  The boom microphone is mountable on the outside or inside and then adjusted as needed.   This is the answer for getting crystal clear voice laid onto the video files.  Need more connection length?  Add a M/F 3.5mm extension…
And no matter if the original module with its external USB-A connector is used or the newer double lead USB and microphone module (shown above) is on hand, removing the battery pack and adding this small module is a piece of (calorie-wise) cake.
The only real difference is that with the new variant the external microphone lead needs some consideration regarding routing and of course placement and mounting of the boom microphone itself if this feature is used.
The audio lead is relatively short in anticipation that the microphone is fitted to the H5 host helmet, although its sensitivity and ability to cope with higher noise levels while still picking up the spoken word from the rider means the microphone can be positioned away from the helmet when desired…but not too far.
And facilitating this latter option is the 3.5mm inline connector on the audio lead (my early pre-release power/microphone module lacked this) so it is easy to extend the connection if desired with a M/F 3.5mm cable, as used when the H5 is mounted on the front of a home fleet motorcycle.
As identified earlier, a new mounting solution or option for the H5 is now in production and included in the new retail kits and available for separate purchase online.  More on these mounting pieces is provided in the Helmet Installation Section.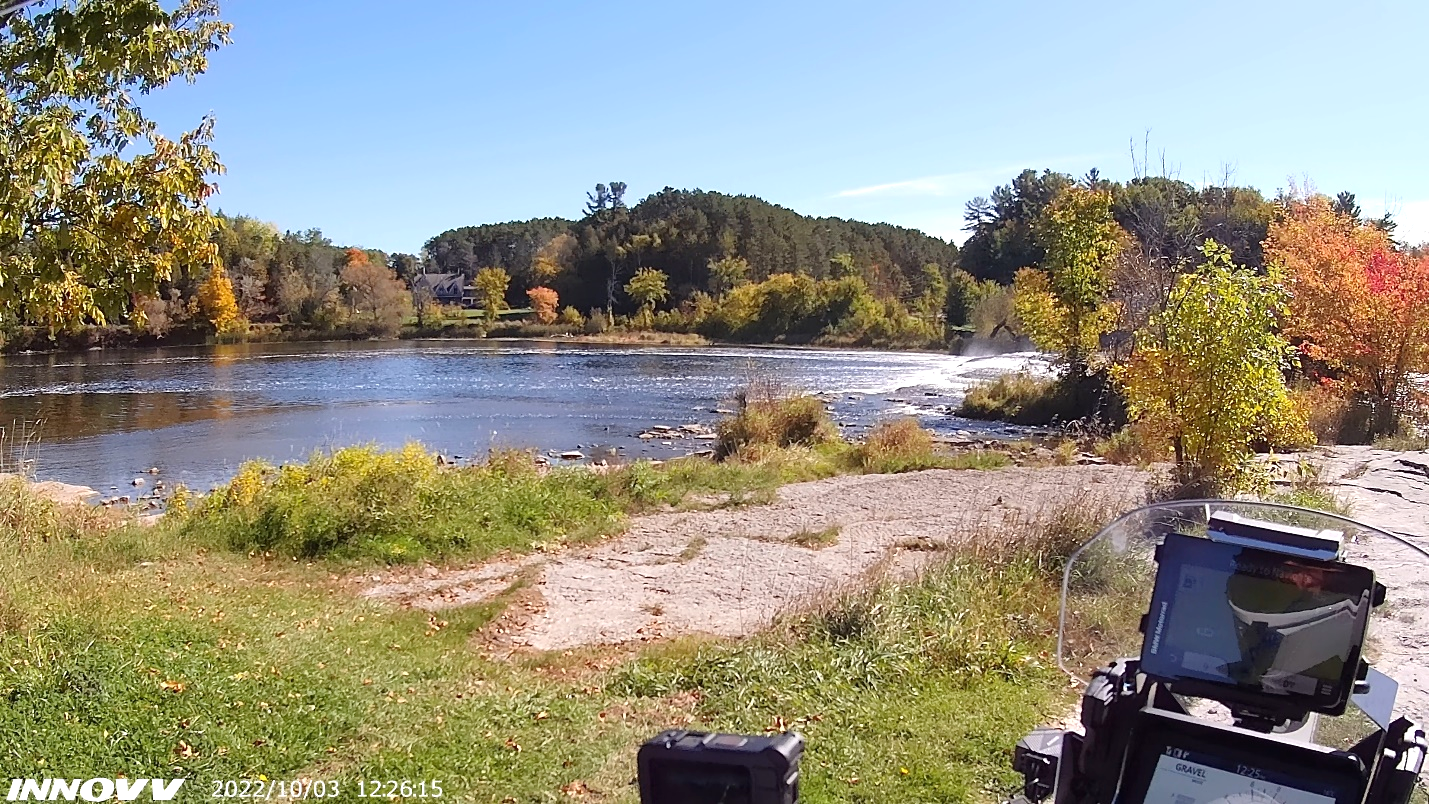 Imaging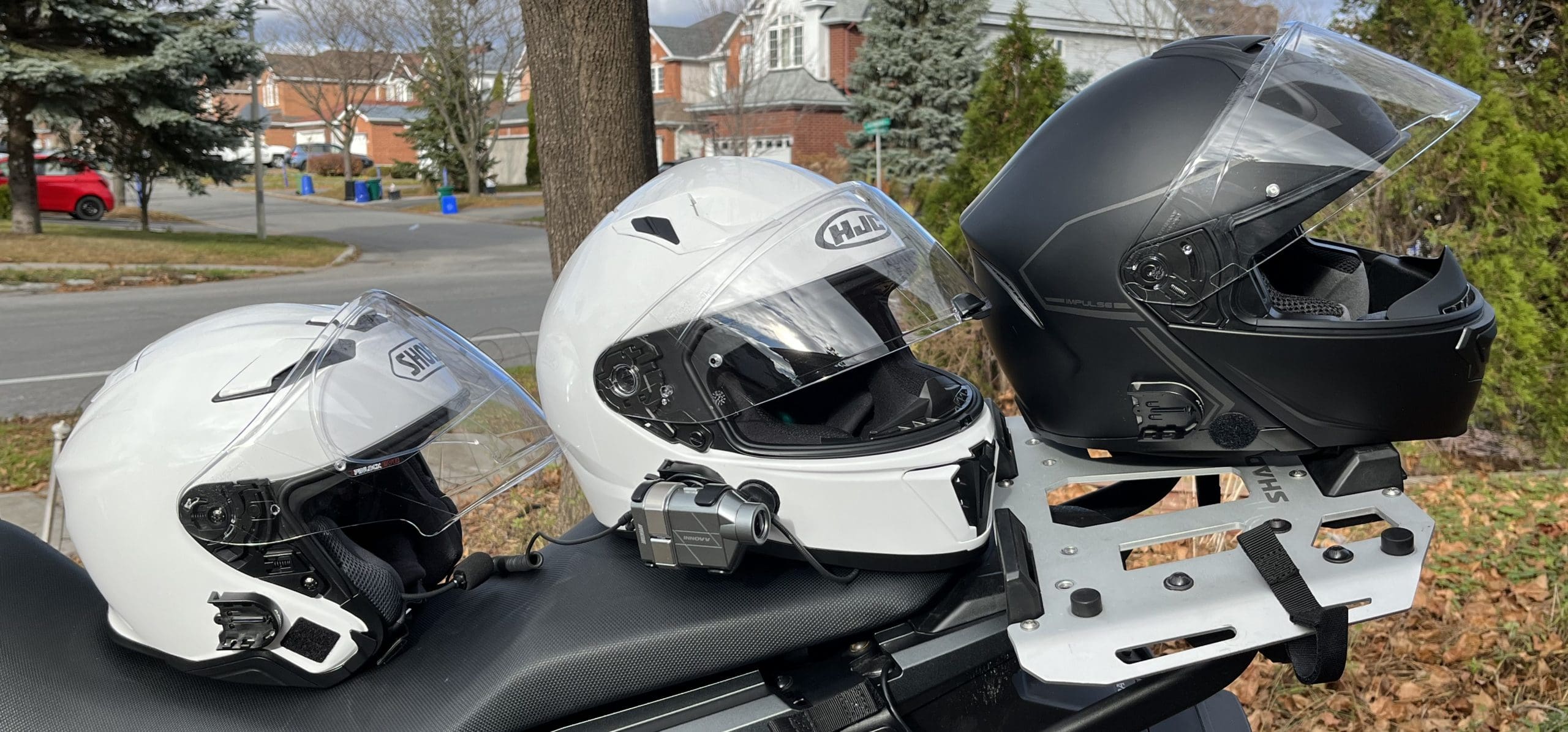 The INNOVV H5 has lots of image processing features and capabilities and INNOVV's prolonged development cycle with the H5 Helmet Camera that included lots of in-house and pre-release user testing to validate its new high-performance Sony 4K image sensor component.
Imaging enhancements include the use of image stabilization technology or EIS (selectable feature) to provide better video at varying resolutions, dynamic compensation for blur and rotation and elimination of vibration effects to ensure enhanced video quality.
Video Resolutions of 4K @ 30fps, 2.7K @ 60fps, 2.7K @ 30fps, 1080P @ 60fps, 1080P @ 30fps and 720P @ 60fps are available; 60fps settings support slow motion or playback manipulation.  Photo Resolutions are 20M (5120 x 3840), 10M (3648 x 2736) and 5M (2592 x 1944).
Other selectable video and audio feature settings are:
Special Effects Settings:  Original, B&W, Natural, Negative, Warm Colour and Contrast
Metering Mode Settings:  Centre, Multi Spot, Spot
White Balance Settings:  Auto, Daylight, Cloudy, Fluorescent, Incandescent
Exposure Compensation Settings:  EV -2.0, -1.0, 0.0, 1.0, 2.0
Bitrate Settings:  High, Middle, Low
Recording Volume Settings:  0 to 5
More information and insights into all the features and settings are provided in the Function and Performance Section.
H5 Helmet Installation
The photo above shows three of the four helmets that host the INNOVV H5 during its regular (daily) use.  The helmet on the left is the Shoei J-Cruise II, centre is the HJC i70 full face and on the right is the Sena Impulse modular.
A fourth helmet prepped for H5 use has one of the new mounting plates fitted to the left side of the helmet; the input controls for the integrated BT system sit along the bottom of the helmet and don't create an issue for the H5 when it is mounted.
While designed as a high resolution portable self-contained or externally powered helmet camera, the H5, thanks to its modularity and portability, is an excellent option for use with a powered or non-powered platform of some sort.  But let's start with its intended use as a helmet camera…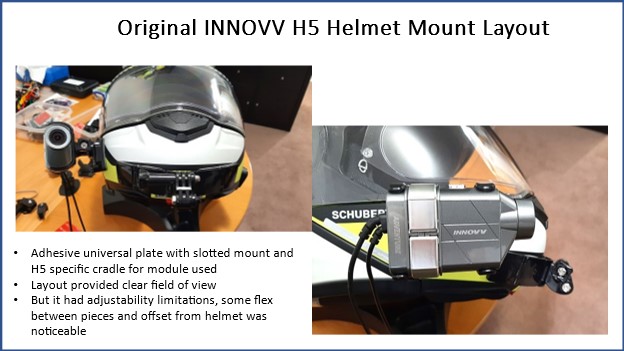 The Original Solution – the use of universally available adhesive plates and slotted mount pieces to secure and support the unique H5 cradle was a good initial solution.  But between feedback from testers and INNOVV's ongoing desire to have more and better mounting options, the requirement for a new helmet mount for this new product was acknowledged.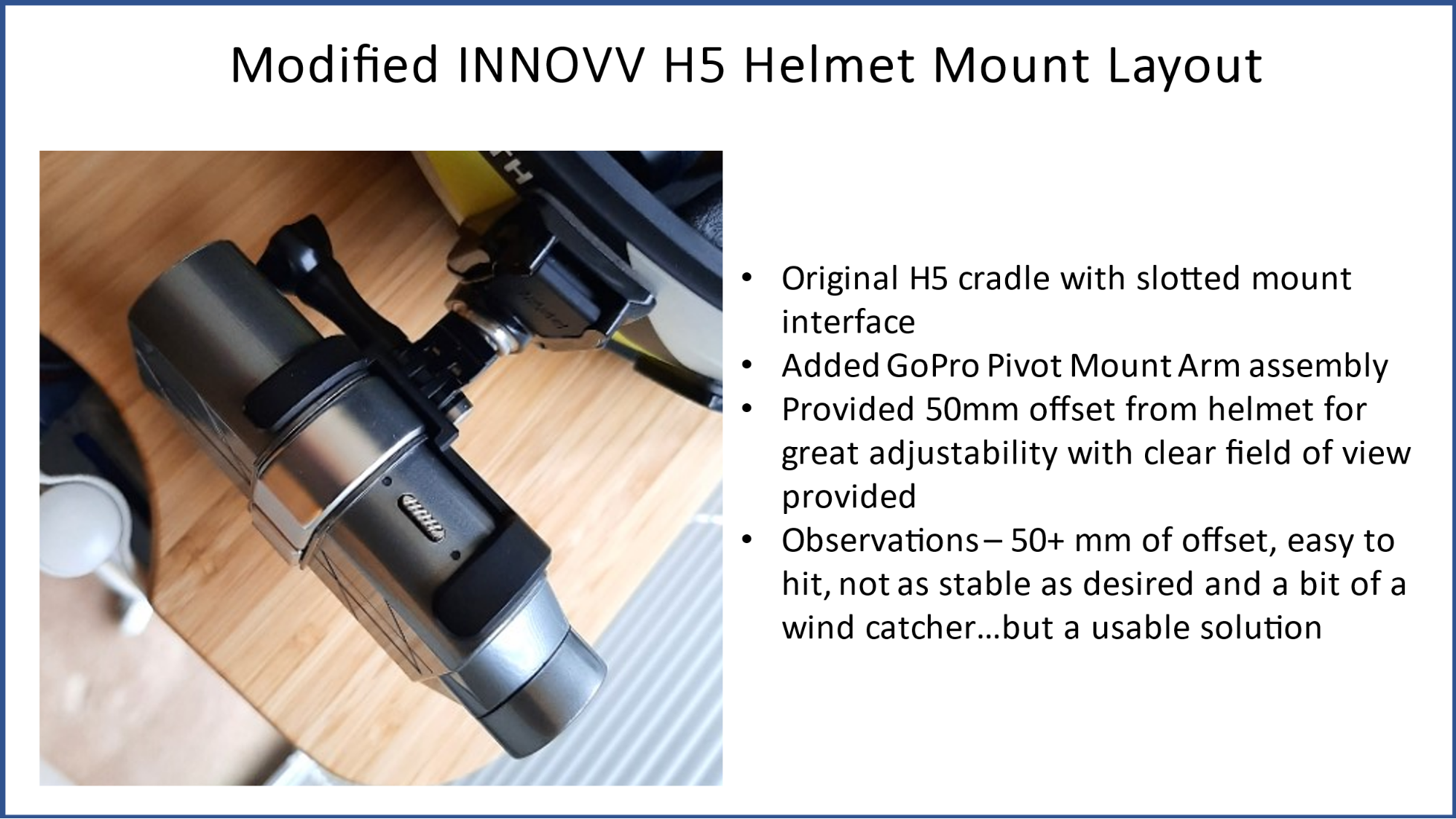 An Early Custom Solution – during my early testing efforts here, an on-hand GoPro specific pivoting mount (shown above) was added to the assembly, creating a modified solution with some pro and some con observations…
This layout provided excellent adjustability and lots of offset for a clear field of view, but the 50mm+ offset from the helmet did put it a bit 'out there' and overall stability was an issue particularly when riding over some surfaces; a compromise was needed…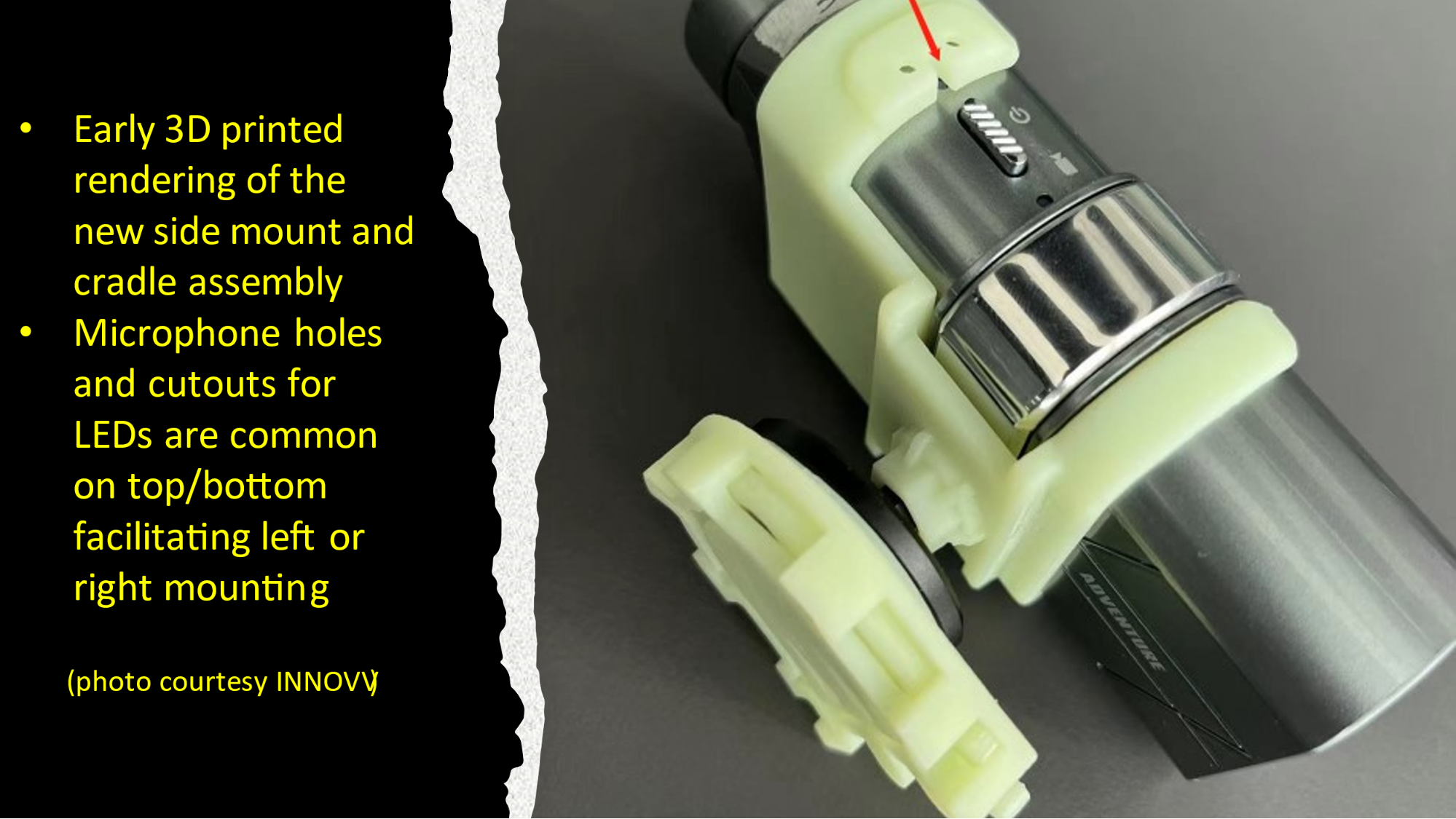 The Solution – A New INNOVV Mount – the photo above (from INNOVV) shows the new mount taking shape, with the small microphone holes and LED viewing cut-outs evident on both the top and bottom of the cradle facilitating left and right helmet mounting.
And in July, a package from INNOVV contained one of the new INNOVV H5 Gimbal Mount kits along with some extra adhesive base plates – all good and eagerly anticipated; the custom 50mm offset solution is now retired (for now).
As shown in the side-by-side comparison photo below the new mounting kit utilizes a larger rounded adhesive base plate that is shaped differently but works like the Drift Camera mounts.  The slide-in snap-fit mount has a 360-degree pivoting arm with 20-degrees of lateral movement, providing excellent adjustability for the cradle and camera assembly.
Tension of the pivot arm itself can be adjusted by accessing the four small bottom pressure plate screws.   e heavier duty snap-in cradle features wider stronger engagement arms is now available as an upgrade and is included in all three of the H5 configuration packages.
After almost three months with the new mount and its use on at least four different helmets, the only observation is that the small cushion washer used with the small screw to secure the pivoting arm and cradle together can be over-compressed inducing accelerated wear; thankfully a spare washer is provided.
This latest helmet mounting solution is (now) included in the standard H5 retail kits and available separately as an upgrade (40.00 USD).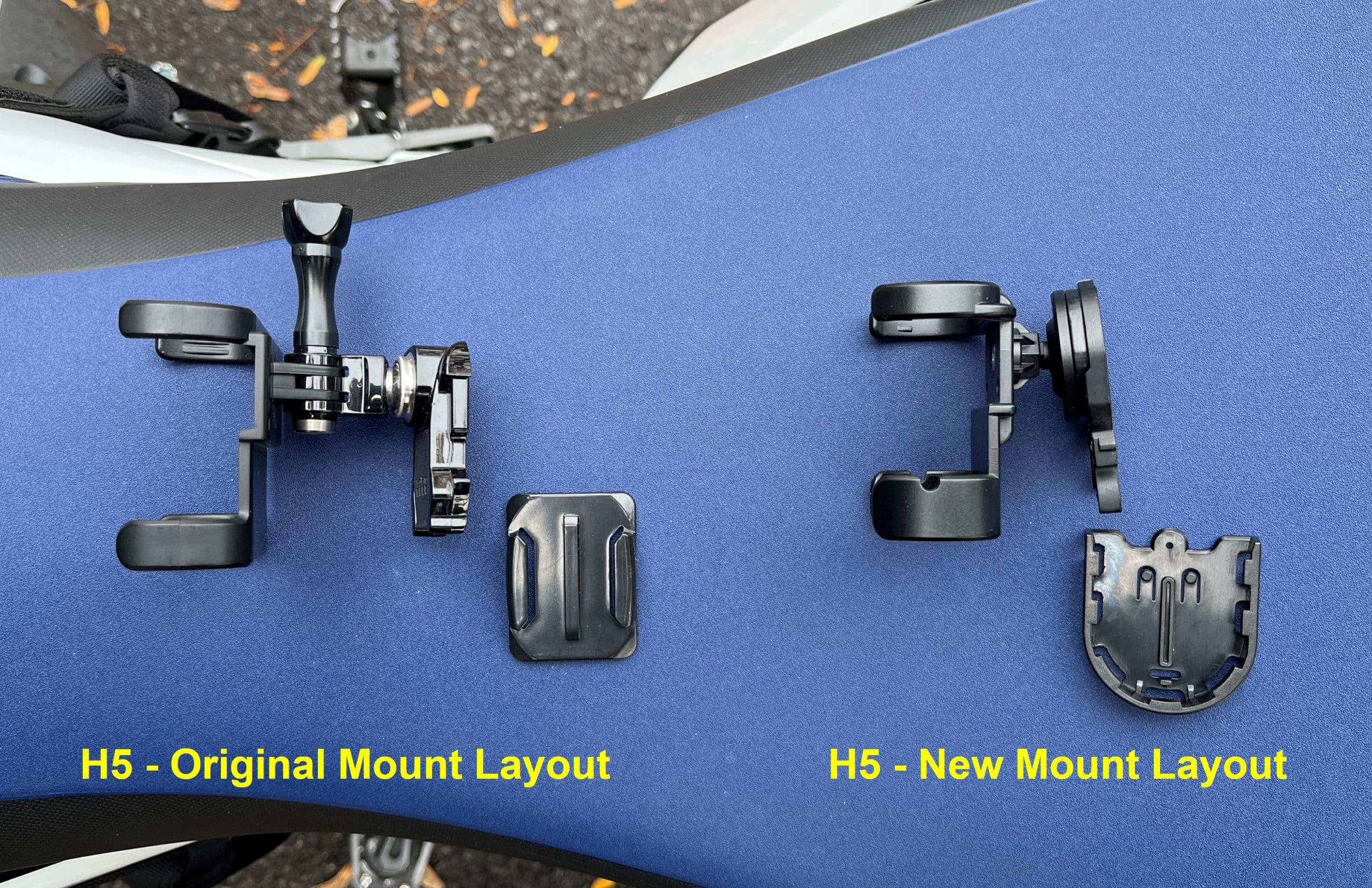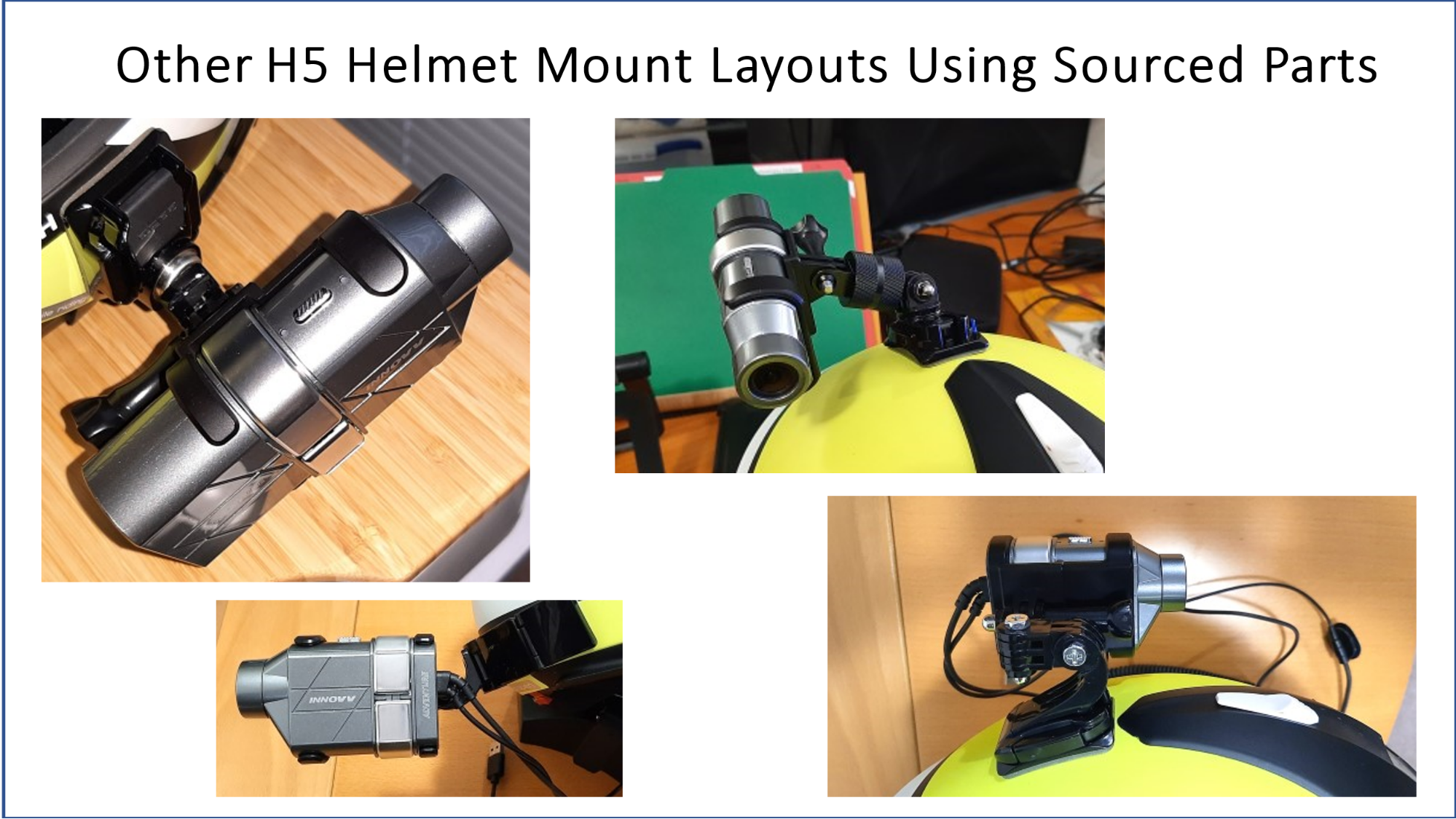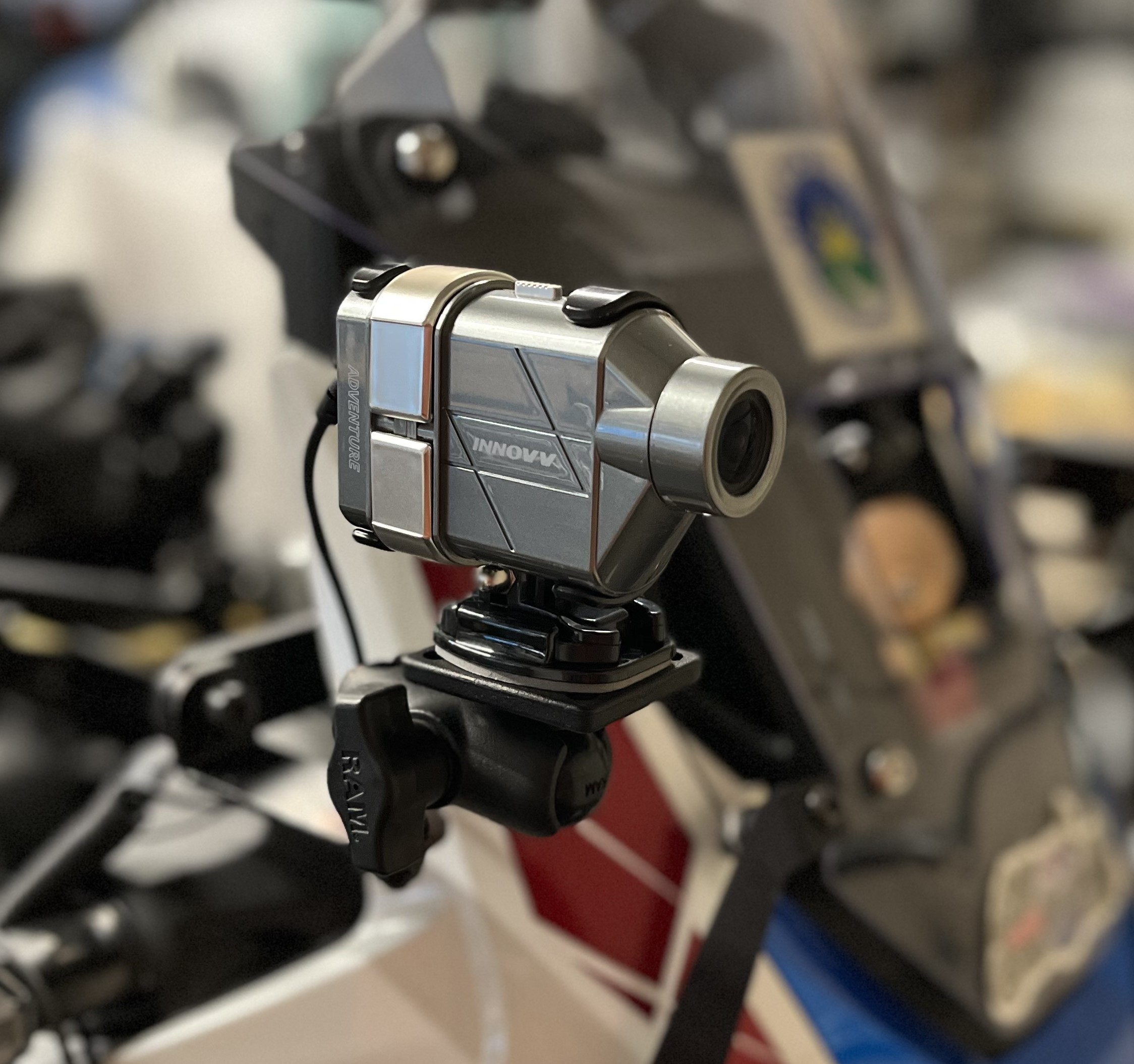 Motorcycles and Other Hosts
As eluded too earlier, there isn't much that the INNOVV H5 can't be mounted on, whether as a self-contained battery powered system or in using an external USB-based power source.  And if crisp clear audio is a requirement (full or part-time), the boom microphone checks that box.
The original kit did have some extra mounting plates for use with say a second helmet or another surface and as these plates and GoPro style mounts are readily available and not (typically) expensive, its easy to find a stable mounting solution of almost any type – including aluminum or alloy pieces that can be stronger and more stable than the plastic pieces.
Newer H5 retail kits now include, along with the new Gimbal Mount pieces, a combination plastic and alloy handlebar mount option that, in having lent this mount to a cycling enthusiast, proves to be a very good handlebar or tubular mount and thus adaptable for a great many platforms; powered or otherwise.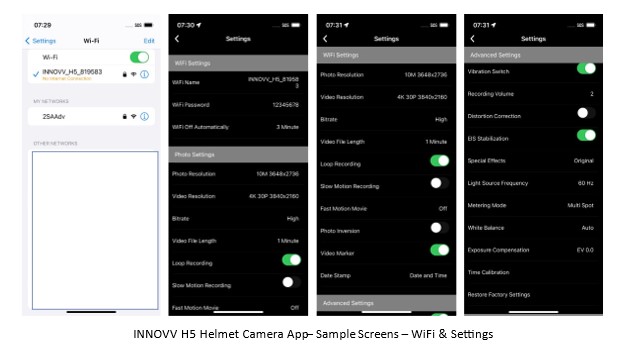 INNOVV H5 Connectivity
WiFi 
Like many video devices including other INNOVV products, a wireless local area network or LAN WiFi connection is used to link the H5 to the desired smart device that will host the INNOVV H5 Camera App as well.
With the H5 turned on the front WiFi LED flashes Green as it looks for a local connection.  After anywhere from 5 to 15 seconds the 'INNOVV_H5_xxxxxx' listing will appear on the smart device's WiFi listing – select this and if all is well the (2.4GHz) connection is subsequently made.
A popup or small text listing below the connection ID should identify 'Connected without internet' or something similar – if asked to let the device connect to the outside world, say no.  Any auto-connect option can be activated as desired as this can speed up the connection when the camera is turned (with the smart device within range of course).
In earlier H5 days, only the iOS App was usable and then to degrees.  But since then both the iOS and Android versions are, for the most part, quite seamless, especially the recently updated Android App which is now my go-to version.
On the iOS side, WiFi detection and connectivity is usually very fast, but there have been some ongoing launch and re-launch issues that necessitated removal and reinstallation of the app (a common issue on three different iPhones running slightly different iOS versions), but again, with recent tweaks and updates, the iOS H5 App seems to have been exorcised.
In general, with the connection made, launching, or switching to the H5 Camera App should see the opening splash screen sequence played followed by the Live View/Main Menu screen with the upper section video pane showing the H5's current field of view.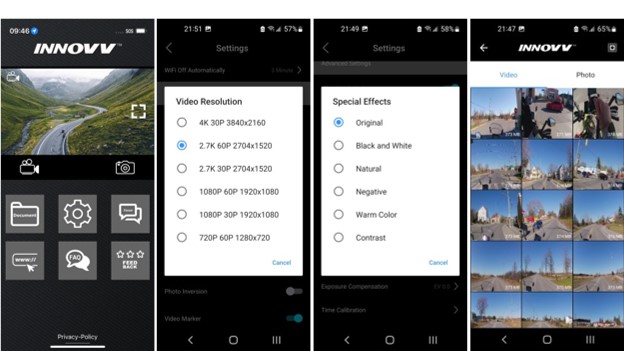 INNOVV H5 Application
The dedicated H5 iOS and Android Apps are easy to use.  The main screen upper pane provides the real-time view from the H5 lens – great for getting the desired field of view quickly through simple adjustments of the mounting cradle/module assembly, monitoring the ongoing view and switching between video recording or (paused) and camera mode for single frame captures.
The upper left of the screen shows a ghost image of either a video device or camera device depending on the mode selected, with battery status shown on the upper right corner and the orientation icon for toggling between portrait or landscape centred on the right edge.
Below the screen are six icons or tabs in two rows.  The first two are 'Documents' (camera files or local device files) and 'Settings' (gear wheel) while the remaining icons are 'Forum'; www://; 'FAQ' and 'Feed Back' – the latter four features are only accessible if an online or data connection is present.
Selecting the 'Settings' icon will stop/pause the recording and bring up the multi-sectional scroll screen with the WiFi Settings, Photo Settings, Advanced Settings, Storage and System categories.  All switchable or selectable features are grouped under the applicable categories so its easy to work through them all to configure or dynamically customize the H5 environment.
H5 Firmware Updating
While the early pre-release system provided was fully functional it could not be upgraded.  But once the original retail box versions were received, INNOVV's periodic firmware updates have been applied to leverage tweaks and take advantage of newly implemented or upgraded features; all resulting in greatly improved performance.  The latest firmware is downloadable here.
The firmware (FW) file is identified by a long date and firmware listing in the download folder but the firmware file itself is named 'INNOVV H5.BRN'.  So, unless downloading the latest FW directly onto the root of the storage media it pays to note the actual FW title listing or save it off to a specifically named folder elsewhere and then copy it over to the media (see note).
With the media in its slot, press the button to turn the H5 on – the Red LED flashes and two short vibratory tones are confirmation.  Upon boot-up the firmware file is detected, and the update process begins indicated by alternating Red and Green LED flashes for about a minute after which the system shuts down with the firmware file deleted from the media.
Note – make sure the original filename of the update is preserved when copied or downloaded onto the root of the media; if the file has a temporary name or is renamed the update routine will not detect it and, do not turn the power OFF during a firmware update.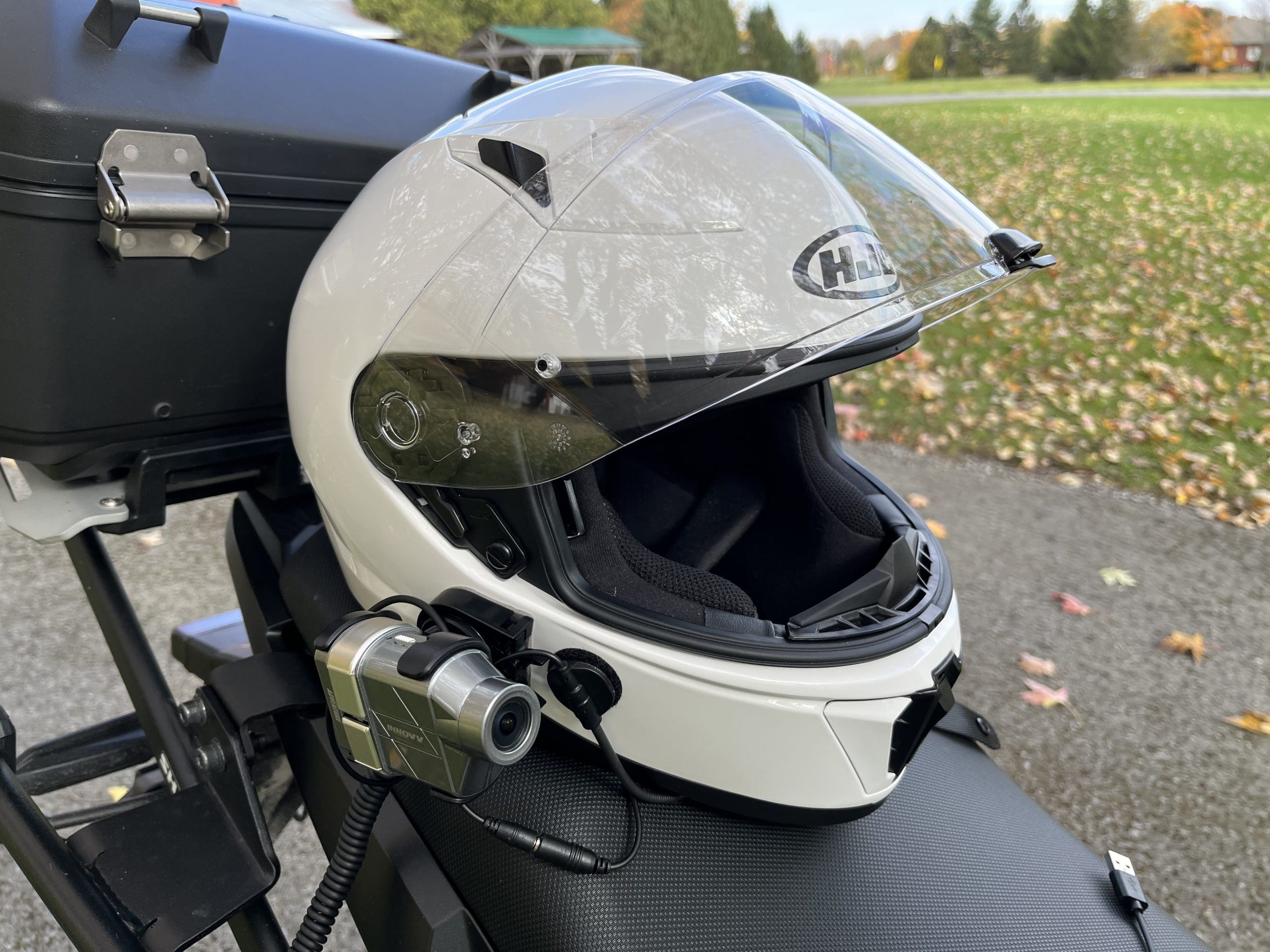 H5 Helmet Camera Function & Performance
General
The photo above shows the favoured configuration – DVR module with the new external module that provides USB connected power and the external microphone.  After almost a year with the pre-release and release versions of the INNOVV H5 and all the changes, everything has been a positive experience – no steps backwards here.
Storage Media
As the INNOVV H5 camera can work at 4K (3480 x 2160 resolution) as well as other settings the need for a high-quality high-performance micro-SD or Secure Digital (SD) memory card is important, with media in 128GB or 256GB with Class 10, U3 and V30 ratings recommended; higher rated UHS-II with a V60 or V90 ratings provide even better performance at a higher cost.
Many high-performance media might list good specs, but actual performance can be anything but especially when using multi-mode multi-resolution devices that provide HD, QHD and UHD+ features.  Some research, with input from other users and camera professionals helps narrow things down.  Thankfully, 128GB to 512GB micro-SD cards are (were) at a good price point.
In using (and rejecting) a lot of 32GB to 1TB cards over the years my shorter list includes V30 to V60 rated pieces with the current cards regularly used being SanDisk Extreme PRO or Ultra PLUS pieces and Samsung EVO Plus or PRO Endurance media in 128/256/512GB capacities.
Don't forget to prepare the storage media.  With the media correctly oriented (see small etching on back face of Lens/DVR module), gently push it in until the media 'clicks', or locks into place.  A slight gentle push inwards will see the card released for removal.
With the H5 turned on, the WiFi connection made, and the H5 App launched, scroll down the settings to the 'Storage' category and select the format option – formatting only takes a second or two.
Camera Controls & Settings
On/Off – to turn the H5 on, press the button for one (1) second – the back LED flashes Red and two short vibratory tones are heard/felt.  Press the button for four (4) seconds to turn the unit off – one long vibratory tone is heard/felt as confirmation.
WiFi Connection – this is not an absolute requirement, unless wanting to configure and/or manage the self-starting system; the user can simply turn the H5 on and be off.
But if wishing to adjust the field of view (preferably when stopped), monitor the view (while riding), make any setting changes (on the move but best when stopped), or look at or download files (when stopped), then allowing the connection to be made on the smart device is needed.
The INNOVV H5 provides the ability to manage the WiFi feature as well, found under the first category under Settings.  The feature can be set to 'WiFi Off Automatically' or conditions of 'Never Off', or 1-, 3-, 5- or 10-minutes duration.  Unless used for ongoing monitoring or dynamic interaction, managing this feature can reduce battery use on both devices.
Video – video recording starts as soon as the H5 is turned on and the boot-up process is completed (very quick).  The back LED is solid Red during recording but flashes if recording is 'paused' in pressing the Video icon on the Live View Screen.
During recording, the small round red dot in front of the on-screen Video camera image flashes on the screen but disappears if recording is paused by pressing the Video icon below the screen.  But on the module the Red LED is solid during recording but flashes when recording is stopped…
Photo – press/tap the H5 button once – a short vibration is felt/heard, and the photo is done.  If using the Camera icon on the main screen (positioned below and to the right of the screen), two taps are needed – once to switch from video mode to camera mode (if recording) while the second takes the photo.
With either the Android or iOS Apps, using the Camera icon under the App results in the shutter sound and the short vibratory tone is felt/heard, but if using the direct input via the H5 button, the user will only get the quick red flash sequence and the short vibratory tone.
Reset – with the H5 turned OFF, press the button for ten (10) seconds – this resets the unit to factory default conditions.
Basic Camera Settings
The INNOVV H5 supports four video resolution settings and two frame speeds, as shown in the table below.
| | | |
| --- | --- | --- |
| Resolution Type / Name | Pixel Size | Frames per Second |
| UHD / 4K | 3840 x 2160 | 30 |
| QHD / 2.7K | 2704 x 1520 | 30 and 60 |
| FHD / 1080p | 1920 x 1080 | 30 and 60 |
| HD / 720p | 1280 x 720 | 60 |
| | | |
These settings are selectable under the 'Settings', 'Photo' category.  With the recording paused by invoking the Settings menu, scrolling to the Video Resolution listing, and then selecting the desired setting has the changes made to the H5 in real time and all confirmed by a small popup message.
Photo Settings of 20M (5120×3840), 10M (3648×2736) or 5M (2592×1944) are available to the user
The Narrative – while obviously an optional and more personal choice, I usually add a short audio narrative onto the first video when starting a ride, be it local, test or longer distance travel, and again after any settings are changed as a key identifier – acknowledging that most, but not all the video and photo setting data is provided in viewing the media file properties.
Recording Versatility
In addition to the usual multi-resolution settings for the video and photo features, the INNOVV H5 also provides a host of features that can very much enhance what is produced with the H5 Helmet Camera for added versatility and value to the investment.  A quick walk through of the specific feature settings is done in point form for clarity and some brevity…
Video File Length can be set to OFF or 1, 3 or 5-minute videos.  When travelling, the 3 or 5-minute length settings are the norm, whereas 1 and 3-minute durations are used for test run or transiting rapidly change scenery or conditions; videos typically reviewed and used for travelogue or test purposes – one-minute videos are easily sorted and vetted.
Loop Recording – OFF or ON.  If turned OFF, then the video file or video files are continuously recorded until the media is full.  If turned ON, video recording is continuous until the media is full which then causes the oldest video to be deleted to make space.
Slow Motion Recording – this slows everything down to half the original speed but at the front-end rather than applying a specific setting at playback; this is a great tool for action video.
Fast Motion Movie – a companion to Slow Motion Recording, fast motion or time-lapse recording provides the means to record over longer periods of time and then compress it all into a shorter video.  Its not time travel but a decent emulation of sorts.  The H5 has settings of OFF or 2x, 4x, 6x, 10x or 15x.
Photo Inversion can be set OFF or ON (default is off)
Video Marker can be set OFF or ON (default is on) – currently it is 'INNOVV' only.
Date Stamp – Off, Date (MM/DD/YYYY) or Date and Time (MM/DD/YYYY), 24-hour settings
Advanced Camera Settings
Vibration Switch – OFF or ON, this simply turns the vibratory tones on or off.  With the setting on, the simple control functions are readily heard/felt, although once on the move or in noisy environments, the vibratory tones are hard to detect; having a two or three level setting for this very useful feature would be good.
Recording Volume – the settings are 0, 1, 2, 3 and 4.  Zero = Off.  In use a setting of '2' works very well with the microphone fitted inside the helmet and typically a '3' if the microphone is on the outside or mounted nearby so that more of the ambient audio environment is captured as well as voice.  Bottom line – the microphone is very effective.
Distortion Correction – OFF or ON.  Another worth-while feature depending on the desired video view.  If minimizing distortion from the 120-degree lens is key turning this feature ON automatically adds an algorithm to the recording process, making images more visually pleasing although resolution and image sizing is impacted.
I'm of a mixed mind regarding this feature and the results, especially as overall distortion from the 120-degree lens is quite acceptable; but you do have the choice.
EIS Stabilization – OFF or ON.  This is a long overdue feature for the INNOVV products but its here on the H5 and it works very well.  Unfortunately, its either Distortion Correction or EIS Stabilization – they cannot both be made active at the same time.  But for this user, I'll take the more positive visuals provided by EIS…
Special Effects – get creative; settings are Original, B&W, Natural, Negative, Warm Colour and Contrast.  This is another favourite feature when one needs or wants a differing view on the way ahead (or wherever the camera is pointed).  The original and natural settings were most used during the summer and fall period.
Metering Mode – choices are Centre (scene framing with priority to the centre); Multi spot (scene framing with algorithmic averaging to get even exposure within the frame) and Spot (focuses on a small area or point within the frame).  I typically use multi-spot mode but like to play around with the other settings depending on the view and objects.
White Balance – a setting that tells the camera how to register colour 'temperature', e.g. Daylight White Balance is typically around 5000-6500K providing a good overall natural or accurate look for outdoor video or photos.
Being able to adjust this balance compensates for changing conditions – the H5 provides an adaptive setting (Auto) in addition to Daylight, Cloudy, Fluorescent, and Incandescent.
Exposure Compensation – an exposure compensation adjustment setting or means to control the 'brightness' of an image before it is captured for a more balanced look (not too dark nor to bright).  This option allows the user to move from the positive (dark image compensation) to the negative (bright image compensation).
This is a very good tool for dark or bright locales and/or nighttime riding, etc.  The H5 provides EV -2.0, -1.0, 0.0, 1.0 and 2.0 settings.
Power & Battery Performance
Well before the first physical H5 device was received, INNOVV had clearly identified that a primary requirement and objectives was long-life battery life for multi-hour high-resolution recording especially when compared to other high-performance products on the market.
After getting one of the first pre-release H5 units last winter, the size and weight of the 2400mAh module was noticeable but then so was its performance.  Even in cooler late winter/early spring temperatures (-5C to +5C or 23 to 41F) the fully charged battery provided 4.5 to 5.25 hours of recording time at 4K and 2K settings.
This is a BIG positive.  Performance of the released versions over the last seven months plus validates that the INNOVV H5 system is indeed capable of providing up to and often a bit more but seldom less than five continuous hours of recording and ambient temperatures have not been a negative factor either.
And recharging is quick using the USB-C port interface; the Red LED (charging) on a well-depleted battery typically shows Green (charged) within 110 to 120 minutes.  And I am fortunate enough to have two batteries on hand as well…
This most impressive battery performance is complemented by the H5's quick-swap modules – it takes only seconds to pop the retaining clips off, remove the battery module and install the power module (either variant), reinstall the clips and then power the H5 using an external 5V USB-based source, like a Power-Pak for a mobile (mounted or dismounted) configuration.
And using a motorcycle-mounted USB outlet of some type provides the mounted power continuity with a single cord connection whether the H5 is helmet or motorcycle mounted; its all good; just don't forget to unplug when dismounting…flex cord or not.
Media Management
Compared to the Sena 50C system that uses a set three (3) minute file length, the INNOVV H5 provides user-selectable one, three, or five, minute video file lengths.  For this user, the one-minute files are preferred even thought more files are generated; but the short segments are easy to use whether reviewing, downloading, offloading or editing.
Downloading files from the H5 to the paired smart device works well but can be slow given typical file sizes; playback on the device may be less than smooth as well depending on the device's ability.  A feature like the dual file creation (full and low-resolution sets) provided by the Sena 50C would be most welcome on the H5 as well.
Accessing media on the H5 is facilitated as well.  Removing the battery or external power module and connect a compatible USB-C power/data cable between the port on the back of the DVR module and a computer.
The H5 is powered via the connection – confirmed by the double vibratory power-up tones heard and the Red LED.  Within seconds, the main media folder pops up on the computer screen.  Removing the micro-SD card and plugging it into a reader works as well.
USB-C based connections are or should be faster than other USB interfaces (although this varies by interface specification of course); but the H5 connectivity and subsequent data transfers are indeed speedy, more so if a dedicated USB-C to USB-C link (computer or hub) is used.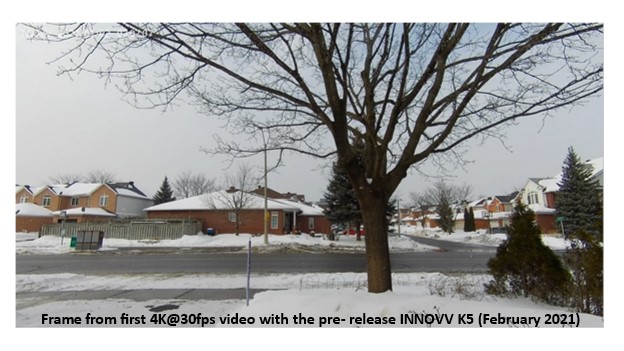 INNOVV H5 Observations
Image Quality – overall, this user rates the H5 system imaging as excellent under widely varying lighting conditions.  Appreciating the apples to oranges comparison thing, using the 'original' or default effects setting, the H5 video doesn't always have the same warmth (richness or depth) as the Sena 50C or the GoPro Hero9 Black, but its consistency is valuable compensation…
On this default setting, this video consistency extends to all resolution and frame settings no matter whether its bright and sunny, overcast or even in the dark.  The EIS feature is available for all resolution and frame settings, adding another perceptible stabilizing dimension.  Comparing video from three other point of view cameras reveals that the H5 renderings are consistently the most usable.
Imaging Features – adding even more value to the H5's capabilities are a host of App-based selectable settings for white balance, metering, exposure and in-camera effects, most of which are not provided on even higher-priced systems.  Using the 'natural' and 'warm colour' settings does much to add warmth and depth to video, allowing the user to get the desired lighting, focus and view.
Battery Performance – in as much that the Sony 4K sensor brings a lot of performance to the INNOVV H5, the 2400mAh battery is a standout and most complementary component itself; being able to support prolonged high-resolution video sessions (up to five hours) on a single charge is a feature not to be ignored.
Ease of Use – insert media, add battery module or external power module, fit H5, install the H5 Helmet Camera App, power the system (recording starts automatically), connect via the App, format media, adjust the view and off you go.  The single control or App interaction makes dynamic control of the H5 easy whether its on the helmet or mounted elsewhere.
Versatility – while the new INNOVV mount is near perfect for virtually any helmet, in using the supplied tubular-oriented mount (great for bicycles) and/or in using third party base and mount pieces, the INNOVV H5 is usable on anything.
A favourite solution here has one of the new base plates and one of the original universal base mount pieces secured to RAM-B round and RAM-B (AMPS) pieces respectively and used with compatible RAM mounts, fixed or portable in nature.
And we won't forget the numerous Quad Lock solutions tried and/or in use; the possibilities are indeed almost endless.  And if an audio extension is needed to keep the high-performance external microphone in play, the 3.5mm inline connector takes care of that (possible) issue
Audio – as with other systems, including INNOVV models, the camera-based or internal pickups can be weak or non-discriminatory regarding speech, other sounds and ambient noise.  The H5's module pinhole pickup is more effective than expected but not specifically focused on capturing user audio – the external boom microphone fixes that in spades.
New Helmet Mount – appreciating the original solution, other solutions provided by other manufacturers and many third-party solutions, INNOVV's new H5 mounting kit is an outstanding solution considering complexity, size, footprint, security and adjustability for the perfect field of view.
Consumer Options – three retail variants of the H5 adds product packaging complexity for INNOVV but provide sensible feature and purchase options for the consumer.
At the forefront is the DVR, battery and both external modules kit; next is the DVR, battery and external power w/mic package; with the DVR, battery and external power module forming the base configuration.  And everything, including the new mount, is available separately…
Missing in Action – this is or could be seen as a personal lament but given the value that a (switchable) tracking/locational feature brings to this type of product, for all sorts of reasons, it is hoped that INNOVV is planning on or looking at adding GPS; its not for a lack of pestering on my part, trust me.
I'm thinking that the GPS feature could be fitted into a wired or wireless handlebar remote perhaps.  Just saying…
The Summary
It has been almost a year since the first pre-release almost-final-form H5 system arrived, and it is still in use as a motorcycle or bicycle mounted camera and is quickly relocatable between motorcycles using standard RAM-B mounting components.
This first iteration H5 doesn't have all the final features and performance of the retail system and it does indeed get beaten up a bit more in being hard mounted per se (including two good meet-the-ground incidents) but it still keeps ticking along…
With the new sensor integrated into the release versions, there is no denying the functionality, versatility and reliability of the INNOVV H5 Helmet Camera system; it is an excellent solution that competes very well compared to higher-priced products.
As a result of its modular design, INNOVV's H5 system can serve a very wide consumer/user base and accordingly there are now three kit combinations available for purchase.
The full meal deal is the H5 Helmet System with Battery, Ext Power and Ext Power with Microphone Modules (4 pieces); the mid-tier is the H5 Helmet System with Battery and Ext Power with Microphone Modules (3 pieces); and the base tier being the H5 Helmet System with Battery and Ext Power Modules (3 pieces).
Virtually everything INNOVV markets is focused on providing safety-oriented products; and while this approach may not be recognized by some but for many of us who ride every day we can – near or far from home, an in-use motorcycle or helmet mounted camera can play an important role in documenting our travels, including where we are on the globe.
And these imaging assets can play a critical role in recording an event or situation that we are or may become involved in…  This rider views the default use of both a motorcycle mounted fixed view front and rear camera and a helmet camera with its rider-focused view as essential components of the safety toolbox; the INNOVV H5 is one such component.
The Bottom Line: As identified in the introductory section, I've had a somewhat protracted view of the INNOVV H5 helmet camera project and since receiving the early versions, have continued, like others INNOVV testers, to assess the product, provide feedback and subsequently do a formal review using the retail box product.  Despite this somewhat close relationship regarding the product, I can state objectively (tester and reviewer) and subjectively (user) that the INNOVV H5 Helmet Camera is the real deal and worth every penny.  And in having a host of other fixed and portable PoV camera systems here I can also state that feature and performance-wise the H5 is extremely competitive within its price range and stands up very well when put against much higher priced more fully featured products.  Admittedly some of its cost is attributable to its superb sensor, processing prowess, component modularity and adaptability; but the sum of the parts is well worth the investment for all the right reasons.  A highly recommended product.       
wBW Specs
Manufacturer: INNOVV
Price when tested: $298.00 for H5 with Battery and both the Ext Power Module and Ext Power with Mic Modules; $273.00 for H5 with Battery and Ext Power with Mic modules; and $268.00 for H5 with Battery and Ext Power Modules.  All prices USD.
Assembled in: China
Warranty:  One-year
Review Date: February to November 2022
Submitted:  15 December 2022
Links / Where to Buy
INNOVV H5 Video Samples
https://www.webbikeworld.com/innovv-h5-helmet-camera-review/