Reading Time: 6 minutes
Leveraging video SEO has become essential for businesses aiming to rank their websites and blogs higher in search engine results. Videos not only capture users' attention but also enhance the overall user experience, making it more likely for them to engage with your content.
To shed light on effective strategies, we asked ten thought leaders for their best tips on leveraging video SEO. From optimizing title and description tags to incorporating closed captions and repurposing blog content into videos, these experts share valuable insights on how businesses can harness the power of video to improve their online visibility and drive organic traffic.
In this article, we'll explore their expert advice and highlight the key techniques to help you maximize the potential of video SEO and elevate your digital presence.
We asked Terkel's community this question: Give your best tip for leveraging video SEO to rank websites and blogs for business.
Here is what ten thought-leaders had to say:
Add Videos to Your Website and Blog Posts.
Optimize Title & Description Tags.
Minimize Loading Time.
Always Upload to Youtube.
Add Meta Tags.
Include Video Transcripts and Closed Captions.
Make Videos that Satisfy Search Intent.
Be Social & Leverage Video SEO Through Your Networks.
Select Your Thumbnail Carefully.
Repurpose Blog Content into Video.
Add Videos to Your Website and Blog Posts
"Using videos makes it more likely for your posts and websites to rank on Google. It's also much more likely that users will come to your website instead of going to competitors without video content.
This is because people don't want to put much effort into anything. Allowing them to watch a video instead of reading will definitely draw attention since it saves time. Writing is also great for SEO keywords, but adding that extra touch goes a long way."
Baruch Labunski, Rank Secure
Optimize Title & Description Tags
"Optimize Your Title Tags: The title tag is what appears at the top of the browser window when someone searches for your content. Ensure that this text is descriptive and contains keywords related to your video. Try not to include any unnecessary information here.
Source: Mangools
Optimize Your Description Tag: Your description tag is what shows below the title tag. This is where you can add some additional details about your video. Be sure to keep it short and concise. Include relevant keywords and try to avoid using too many emojis."
Ilija Sekulov, Mailbutler
Minimize Loading Time
"Embedding SEO-friendly video content into your website can help draw more users through Google, but don't forget to consider the influence of "Page Experience" on your search engine rankings. This is essential because your content needs to be as easy to access as it is relevant.
Keep your embedded videos on the smaller side to minimize buggering time and reduce the mobile data required to load and watch your videos. Compress videos built into your website and set videos to play once, rather than on a continuous loop."
James Diel, Textel
Always Upload to Youtube
"Double down on your SEO efforts by uploading your videos to YouTube and embedding them on your website rather than directly uploading them there. You'll expose your brand to 2.6 billion users, building reach and reputation through more traffic to your website, too.
You can even allow other users to embed your uploaded videos to their own site, blog, or channel. Interested viewers can find your brand through links directly in the video or by clicking through your YouTube page. Be sure to link your website on your YouTube channel."
John Li, Fig Loans
Add Meta Tags
"Your meta tags should be complete and full of keywords for video SEO. If the meta tags are incorrect, your overall SEO will tank quickly. Use Moz to finalize your meta tags for free before posting. This way, your video SEO will be ranked correctly, and you will succeed overall."
Daniel Tejada, Straight Up Growth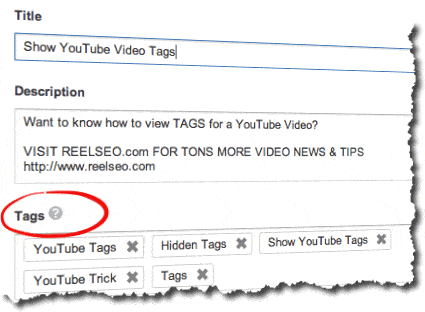 Source: Thevideocompany
Include video transcripts and Closed Captions
"Including a textual source for your video adds metadata to the webpage, boosting your SEO. Your keywords appear more often, and searches related to the video audio will rank your webpage higher.
Including closed captions also increases your video's accessibility, making it viewable for those who cannot hear or are hard of hearing."
Roy Morejon, Enventys Partners
Make Videos that Satisfy Search Intent
"Google prioritizes videos that align with search terms that people use. It also pays attention to the purpose behind a person's search. Put together, this is called search intent. It's the difference between seeing restaurants and recipe videos when your search involves "pizza."
Matching informational search intent is one of the most efficient ways to rank higher in search. To leverage it, your content must address your audience's most common queries. Combined with detailed titles and descriptions that clearly reflect your video's purpose, this ensures that Google and its users can easily find your content.
If users like what they see, this signals to search algorithms that your content is relevant, valuable, and informative. As a result, your video and your website or blog get promoted even higher on search engine results pages. This exposes users to other content published on your website, which is an excellent driver of repeat traffic."
Patrick Casey, Felix
Be Social & Leverage Video SEO Through Your Networks
"The best tip for leveraging video SEO to rank websites and blogs for business is to share it far and wide across your social accounts. We can't always rely upon automated processes, and sometimes you must be proactive in sharing your product with your personal network.
Creating diverse networks to share content across greatly boosts your campaign. These viewers have a personal tie to the content (you) and will be more inclined to watch, engage, and share.
Using this as the springboard for your content is a great way to leverage video SEO. Building a groundswell via familiar people in your network can be an effective start to getting your content campaign off to a great start."
Devin Schumacher, SERP
Select Your Thumbnail Carefully
"It's all about the thumbnail. If the thumbnail is boring, people are less likely to click on it. But if it's attractive and gives a curiosity, everyone is likely to click on it to see what's in there. In videos, people judge the video by its thumbnail. Hence, focus the most on the thumbnail to boost the video SEO.
Don't make it a clickbait because this strategy will only work once. If you do it repeatedly, the audience will know what you're trying to do. Hence, keep the curiosity alive but with professionalism."
Meera Watts, Siddhi Yoga International Pte. Ltd.
Repurpose Blog Content into Video
"One simple trick that can help with ranking is repurposing blog content into video. Videos keep the audience engaged for longer. Meaning they will be on your website for a longer period which is a metric heavily affecting your SEO.
Even if your website has massive traffic but low time spent on it, Google will probably lower your SEO rank. A survey by HubSpot shows that 55% of users watch video content with attention, whereas blogs only have 29%.
Instructional or informative blog content has proven to work excellent as a video. Reuse the blog itself as a script. An insider tip to check if your blog can be reused as the script is to read it out loud. If it sounds odd or bizarre, try shortening your words and sentences.
Often we use words on paper that are not necessarily used in conversation. Being aware of this, you should edit accordingly. Ensure you have high-quality cameras (today's smartphones are more than enough) and video editing software that are easily available online."
Klara Dumancic, Alpha Investors
Closing Thoughts
Incorporating video SEO techniques can significantly impact your website and blog's visibility, attracting more organic traffic and enhancing user engagement. By following the expert tips shared in this article, you can improve your chances of ranking higher in search engine results.
Additionally, utilizing meta tags, including video transcripts and closed captions, creating videos that align with search intent, selecting attention-grabbing thumbnails, and repurposing blog content into videos can further amplify your video SEO strategy.
Remember, video content provides a dynamic and immersive experience for users, making it a powerful tool to elevate your business's online presence and ultimately drive success in the digital realm. Embrace the potential of video SEO and unlock new opportunities for growth in today's visually-driven world.
At Flying V Group, we're ready to help you revolutionize your website and blog's SEO through the power of video content. With our expertise in video SEO strategies, we can take your online visibility to new heights, Captivate your audience, increase organic traffic, and elevate your search engine rankings with compelling videos that truly resonate. Reach out to us now and let's embark on a journey of digital success together.
https://www.flyingvgroup.com/seotips/video-seo/