In the world of content creation, video editing is a skill that's both necessary and time-consuming. But thanks to the advent of artificial intelligence (AI), the process of video editing has become easier and more efficient than ever before. These tools have accelerated the process of video editing. Today, we'll explore Gling AI, its review, and top 15 AI video editing tool alternatives that are revolutionizing the way we create and share content. Let's start. 
Top 15 alternatives to Gling AI
1. InVideo
InVideo is an AI-powered video editing tool that offers a user-friendly interface and a variety of templates. It provides advanced features such as automated voiceovers, intelligent text-to-video capabilities, and a vast library of stock media. InVideo simplifies the process of creating professional-looking videos for marketing, social media, and other purposes.
Key features 
The tool offers a text-to-video feature that can transform blog posts or scripts into engaging video content.

It has an advanced timeline editing that allows precise control over each element in the video.
2. Synthesia
Synthesia specializes in AI-powered video generation, particularly focusing on synthetic media and deepfake technology. It allows users to create videos by utilizing pre-recorded or text-to-speech (TTS) voices and mapping them onto realistic virtual characters. Synthesia finds applications in marketing, e-learning, entertainment, and more.
Key features
It offers AI-driven avatars that can present your content in multiple languages.

Synthesia allows for personalization of videos at scale, making it suitable for businesses.
3. Magisto
Magisto is an AI-driven video editing platform designed for creating impressive marketing videos. It automates the editing process by analyzing footage, detecting key moments, and applying appropriate effects, transitions, and music. Magisto enables users to create professional-looking videos quickly and easily, making it ideal for social media marketing campaigns.
Key features
It features a smart video editor that uses AI to analyze and edit your video.

Magisto offers ready-made templates for various video themes such as business marketing, personal events, and more.
4. Filmora Wondershare
Filmora Wondershare is a popular video editing software that incorporates AI-based features. It provides a wide range of creative tools and effects, including AI-enhanced scene detection, video stabilization, color grading, and audio noise reduction. With its intuitive interface and powerful capabilities, Filmora Wondershare caters to both beginners and advanced video editors.
Key features
It offers a variety of effects, transitions, and templates to add to your video.

Filmora includes a green screen feature for special effects and color grading controls for customization.
5. Lumen5
Lumen5 is an AI-driven video editing tool designed for content creators and marketers. It simplifies the process of turning blog posts or articles into engaging videos. Lumen5's AI algorithms analyze the text, suggest relevant visuals, and automatically generate video scenes. Users can customize the video by adding music, voiceovers, and branding elements.
Key features
It includes a text-to-video feature that turns blog posts and articles into engaging videos.

Lumen5 offers a media library with millions of photos, video clips, and music tracks to choose from.
6. Wisecut
Wisecut focuses on automating the editing process for action sports footage. Its algorithms analyze the video content and detect key moments, enabling users to generate highlights effortlessly. Wisecut also offers features like stabilization, speed adjustments, and smart transitions to enhance the overall video quality.
Key features
It offers automatic transcription of video content for creating subtitles or searching through content.

Wisecut has a voice-overs feature that can generate natural-sounding voices in various languages.
7. RawShorts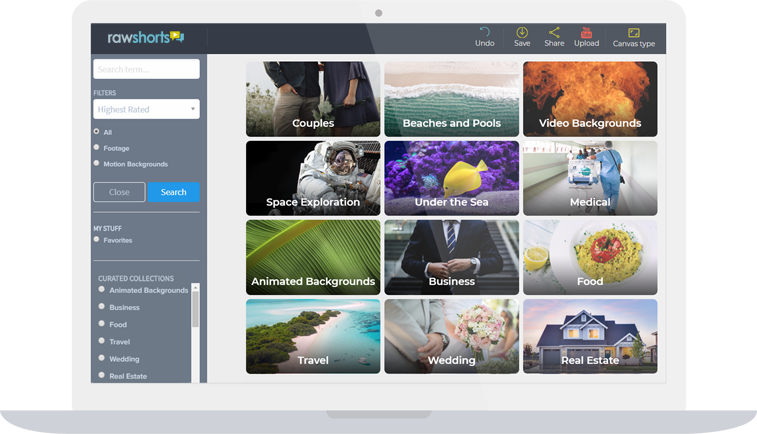 RawShorts is another great AI-powered video creation platform that streamlines the video editing process. It provides a drag-and-drop interface and a library of templates, animations, and stock media. RawShorts' AI algorithms assist in generating videos based on user input and help create visually appealing and engaging content for various purposes.
Key features
It offers a drag-and-drop interface, making it easy to create animated videos.

RawShorts includes a text-to-animated-video feature for creating explainer videos quickly.
8. FlexClip
FlexClip is a versatile online video editor that incorporates AI features. It offers a user-friendly interface and a wide range of customizable templates. FlexClip's AI technology helps users trim, merge, and enhance their videos effortlessly. It also provides features like automated subtitles, voiceover recording, and video optimization for social media platforms.
Key features
It provides extensive stock resources including video clips, photos, and music.

FlexClip includes a storyboard-like editor that allows for easy and quick video creation.
9. Adobe Premiere Pro
Adobe Premiere Pro is a professional-grade video editing software widely used in the industry. While it doesn't rely solely on AI, it incorporates AI-powered features like auto-reframing, scene detection, and automated color grading. Adobe Premiere Pro offers a comprehensive suite of tools for advanced video editing, post-production, and visual effects.
Key features
It offers multi-cam editing, 3D editing, and a wide array of transitions and effects.

Adobe Premiere Pro supports VR editing and integration with other Adobe Creative Cloud tools.
10. Descript
Descript is an amazing video editing tool that focuses on audio editing and transcription. Its AI-powered features allow users to edit audio by modifying text transcripts, removing filler words, and even generating realistic voiceovers. Descript's collaborative capabilities and intuitive interface make it popular among podcasters, content creators, and video editors.
Key features
It transcribes video content and allows for editing in the transcription text itself.

Descript offers an AI-driven overdub feature, allowing you to create a synthetic voice of yourself.
Descript can also generate podcast transcripts . Check out this guide to know more. 
11. Pictory
Pictory leverages AI technology to automate the video editing process. It enables users to transform their raw footage into polished videos effortlessly. With Pictory, you can choose from various templates, add music, captions, and transitions. Its AI algorithms analyze the footage to create engaging visual effects, resulting in high-quality videos.
Key features
It automatically summarizes long videos or written content into short, impactful videos.

Pictory offers automatic captions and voice-overs in various languages and accents.
12. Muse.ai
Muse.ai simplifies video management and editing for enterprises. It leverages AI to automatically analyze video content, extract metadata, and enable advanced search capabilities. Muse.ai also provides features like automatic transcription, video summarization, and smart tagging, making video organization and editing more efficient.
Key features
It uses AI to enable search within the video content, by searching for spoken words, objects, or even faces.

Offers unlimited viewers and advanced analytics, allowing you to track viewer engagement and video performance.
13. Toonly
Toonly is a user-friendly, AI-powered animation software that allows users to create explainer videos, animated presentations, and more. It offers a vast library of pre-made characters, backgrounds, and props that can be easily customized. Toonly's intuitive interface and drag-and-drop functionality make it accessible for beginners without compromising on quality.
Key features
It provides a large library of characters, props, and scenes.

Toonly offers a simple, drag-and-drop interface that does not require any technical or design skills.
14. Wideo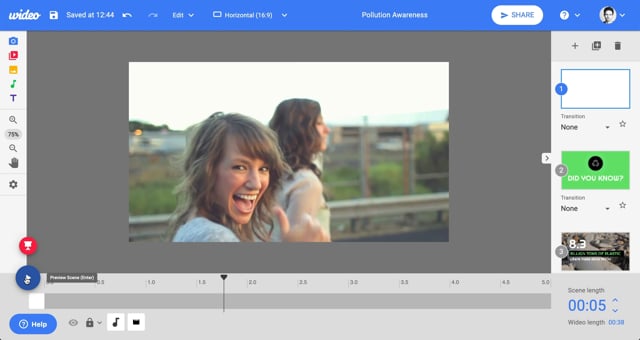 Wideo  combines a drag-and-drop interface with AI-powered features. It offers a variety of templates and customizable elements for creating animated videos, presentations, and marketing content. Wideo's AI algorithms assist in creating smooth animations, transitions, and effects, enabling users to produce professional videos efficiently.
Key features
It offers ready-made video templates for different industries and use-cases.

Wideo allows users to animate elements such as text, images, and shapes to create dynamic video content.
Dive into a world of creative possibilities and bring your storytelling to life with AI-powered video editing tools. From seamless transitions to automated enhancements, elevate your videos to new heights of excellence. 
15. Rephrase.ai
Rephrase.ai specializes in AI-driven voice cloning technology. It allows users to create realistic voiceovers by mapping their script onto virtual characters with unique voices. Rephrase.ai finds applications in video games, entertainment, voiceover services, and other industries where personalized and lifelike voiceovers are needed.
Key features
It offers the creation of lifelike AI avatars that can be controlled and manipulated.

Rephrase.ai can generate videos in various languages and accents, expanding reach to global audiences.
Gling AI: Comprehensive user review 
This AI tool has been hailed by its users for its time-saving capabilities and high accuracy in video editing. One customer praised Gling for saving them "many hours of tedious work," reducing unnecessary time wastage, and making the process of video editing a breeze​. 
Another user was taken aback by Gling AI's accuracy, stating they were "surprised by how accurate Gling is," and expressing that it significantly helped with post-production work by effectively detecting pauses​.
A third customer expressed relief at being able to avoid the tiresome task of endless cutting, which they considered the worst part of video editing, happily delegating the task to Gling so they could focus on their content​. Yet another user echoed these sentiments, stating their use of Gling allowed them to save whole days of what they deemed as "unpleasant work" and was astounded by the results Gling produced​.
Overall, Gling AI has been applauded for its ability to handle the more laborious aspects of video editing, enabling users to focus on their content while it handles the rest. Its accuracy and time-saving abilities have been particularly highlighted, making it a valuable tool for those involved in video editing and post-production work.
Frequently asked questions (FAQs)
Q1. Can AI edit videos?
Absolutely. AI video editors can automatically identify and correct errors in video footage, provide suggestions for quality improvement, and even create videos from scratch using a few input images or videos.
Q2. Will AI take over video editing?
While AI technology is becoming more and more precise, it's unlikely to completely replace human video editors. The human touch in editing, which includes nuanced decisions and creative interpretations, is something that AI cannot replicate entirely. However, AI can significantly aid the editing process, making it faster and more efficient.
Q3. What technology does Synthesia use?
Synthesia uses AI and deep learning (DL) to simulate real videos, real actors, and authentic voices. This technology eliminates the need for cameras, microphones, and even actors, making video creation as easy as taking pictures.
Conclusion
AI video editing tools are revolutionizing the way we create and share videos. With these tools, you can easily automate tedious tasks, enhance your videos with professional-grade effects, and even create videos from your blog posts and articles. 
With Gling AI and so many other alternatives available, you're sure to find the perfect tool for your needs.
https://ambcrypto.com/blog/gling-ai-15-video-editing-tool-alternatives-and-review-2023/